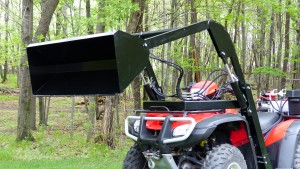 Turn your Polaris ATV into a hardworking machine with the Highly Maneuverable ATV Attachment from Wild Hare Manufacturing. Our Quad front end loaders pack a real punch with their Hydraulic dump bucket system. The beauty of a hydraulic system is that you have a powerful force while moving both up and down. Just think of the many uses and benefits of having such a valuable machine for work and home. You can easily lift, scoop or carry up to 500 pounds up to 5 feet high. The Groundhog is designed to fit onto your Polaris All-Terrain Vehicle and transform it into a very versatile machine.
Quad Front End Loaders
Save your back and cross off your to-do list in record time with the help of a Quad Front End Loader from Wild Hare Manufacturing, Inc. We incorporated a powerful Hydraulic mechanism that is easy to mount onto your Polaris quad machine. Other ATV attachments that rely on a winch system cannot compare to the Groundhog. Not only can you benefit from the hydraulic system that works both while lifting and lowering, this ATV attachment is very maneuverable.
Maneuverable and Powerful ATV Attachments
A Polaris ATV is a great machine to own. They provide hours of fun and functionality for all kinds of applications. A quad machine that is equipped with a powerful hydraulic bucket can be just as effective for plowing snow as it is for hauling gravel or mulch. A dump bucket attachment can transform your Polaris four wheeler into a real workhorse. They are Highly Maneuverable to get move around in tight spaces and get your work done faster.
Powerful Hydraulic Front End Loader
Most manufacturers rely on a winch system that can handle some jobs but does not give you the benefits of Hydraulics. The very rugged and durable Groundhog quad front end loaders are so powerful that they come with suspension locks. After the initial setup, the bucket can be easily attached and detached in minutes. You will have substantial power at your fingertips when lifting or hauling up to 500 pounds. Our fully hydraulic system makes your work easier.
Highly Maneuverable Polaris ATV Attachment
Wild Hare Manufacturing, Inc. builds a Highly Maneuverable and Powerful attachment for your Polaris ATV. Our Quad Front End Loaders can handle rugged tasks that require a fully hydraulic system. They are designed and built to make your work easier and more enjoyable. With this very versatile ATV attachment you can appreciate its substantial pressure when lifting or lowering the dump bucket. Our customers are discovering new uses for the Groundhog Front End Loader every single day.
Call Wild Hare Manufacturing, Inc. at 1-218-483-1000 or email us at info@wildharemfg.com. We would Love to hear from You!