Rugged Implements for Real Results
"…this is a real game changer." & "We were really impressed with it!"
— Brian Fisher, Fisher's ATV World, as seen on NBCSN
It's Time Your Quad Owned Up To Its Capabilities!
Hydraulic Front End Loader
Perfect for digging, back-dragging, leveling, lifting, and transporting loose materials.
Learn More
Pallet Forks Attachment
Move & stack pallets, logs, fence posts, hay bales, and more. The possibilities are endless.
Learn More
Hydraulic Snow Plow Blade
Make snow plowing & removal a breeze; bulldoze your drive with easy blade operation.
Learn More
Hydraulic Implement System
Unlimited potential for different uses by landscapers, farmers, ranchers, and home-owners alike.
Learn More
Cultivator ATV Attachment
Rips up tough soil & sod to varying depth; perfect for starting gardens, food plots, and lawns.
Learn More
Disc / Harrow Attachment
Easily adjustable down-force allows you to pulverize dirt evenly for a multitude of uses.
Learn More
Box Grader ATV Attachment
Adjustable ripper/scarifier shanks allow for everything from fixing potholes to finish grading a building site.
Learn More
The Essentials Package
Our Hydraulic ATV System packaged with the 4 most popular front & rear attachments.
Learn More
Hydraulic Powered Attachments For Your ATV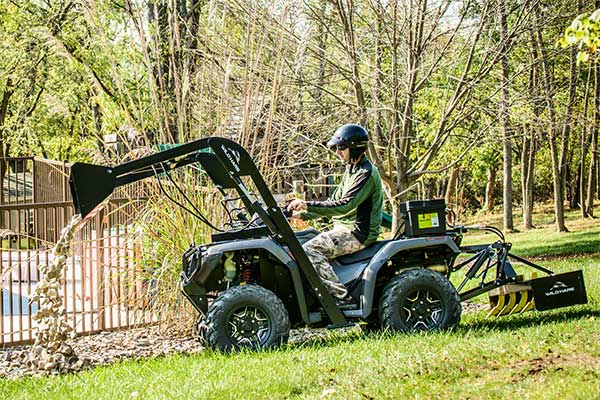 Are you searching for ATV attachments superior to the rest? Do you have the need to dig, lift, plow, drag, push or level? If so, the Wild Hare ATV Implement System – fully equipped with hydraulics, suspension locks and a diverse set of implements – will allow you to get the job done. All of our products are specifically engineered and durably manufactured to transform your quad from a toy into a tool – in just minutes. Wild Hare Manufacturing is rewriting the book on ATV attachments. The power of these quad attachments/implements is far greater than any competitor's because they utilize full hydraulics, not just a winch, which gives all the attachments both powerful upward pressure (for lifting) and downward pressure (for digging).
It is awesome for snow plowing, landscaping, hauling rock and mulch, back dragging, stable work and gardening, and any other application you can imagine. It is also ideal for resort owners and sportsmen.
Robust Hydraulic Attachments for both the Front and Rear of your ATV!
Work Smarter With The Wild Hare ATV Implement System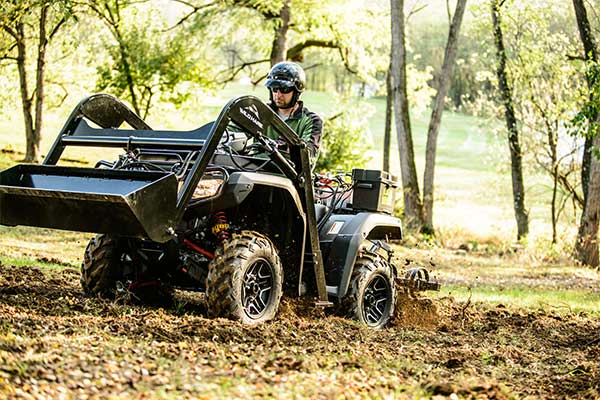 It's time your quad owned up to its capabilities. Make any job easier by purchasing ATV implements and attachments made by Wild Hare Manufacturing, and get the power of hydraulics behind you. The Wild Hare ATV Implement System can lift or push into the ground with up to 500 pounds of force. Also, the Front-End Loader can raise up to 5 feet high. All of our attachments are easily adjustable and can fit most ATV bodies. With our versatile quad attachments that old shovel, bucket and wheel barrow will be but a faded memory of the past. Our easily mounted hydraulic attachments are an affordable solution when purchasing a tractor or skid steer would be overkill, or if the overall size of a tractor or skid steer aren't favorable for your location, storage situation, or application. Our four wheeler attachments and implements don't just raise and lower with gravity, they move with hydraulic force controlled by a simple rocker switch mounted on the handle bar. Because they are mounted to an ATV that is light on its feet, there is no need to repair skid steer and tractor ruts in your lawn after the job is done. When the job is done…it's done!
Potential Applications for using an ATV with our Hydraulic Attachments:
Landscaping
Hauling Heavy Loads (up to 500 lbs.)
Snow Plowing
Horse Stable Cleaning
Sportsman's Food Plots
Maintaining a Large Property
Many More…
Special Wild Hare ATV Implement System Packages:
Versatile Four Wheeler Attachments
Our products are really in a market of their own. Because of this, we have gone a step further to manufacture a variety of attachments that will simplify the task at hand. Our product line will continue to grow, with a post-hole digger and a push blade implement being in our future. Our customers are creating new applications for our powerful ATV attachments daily, and we are continuing to evolve in order to keep up with their needs. Whether you're hauling a fresh kill, moving hay bales, hauling wood, or re-sodding your yard, our Wild Hare ATV Implement System will fully equip your four wheeler for the task at hand. Our attachments will make your heavy lifting that much easier.
Order Yours Today
Take control with the rugged construction of the Wild Hare ATV Implement System. Order your desired products or packages online today. Wild Hare Manufacturing is dedicated to ensuring timely responses and giving you the personal attention you deserve as our customer. We can be reached directly by calling 218-483-1000 or emailing info@wildharemfg.com.