Hydraulic Pallet Forks Attachment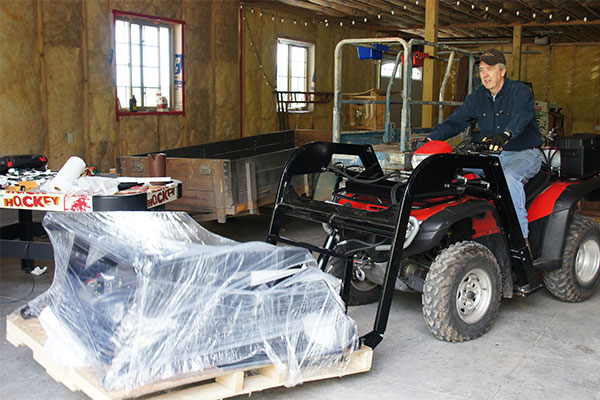 Wild Hare Manufacturing Inc. offers a very convenient ATV attachment for our hydraulic powered system:
Pallet Forks
. These forks are fantastic for more than just moving pallets. Whether you've got bales of hay, boxes, crates, logs, feed or anything else needs to be moved, attaching forks to your Wild Hare System will allow for easy lifting, lowering, and control of your load. Our pallet fork attachment will save man-hours and increase productivity. You don't need to spend a fortune on a tractor to see these benefits, when our system fits right on your ATV.
Easy ATV Attachment Swaps
Our pallet fork attachment for ATVs not only makes transporting supplies or merchandise easier; its installation is a breeze. This front-end ATV attachment uses 3 locking pins to attach / detach from the system in just minutes, allowing you to get the most out of the time spent with your Wild Hare loader. With lifting capacity powered by one set of rocker switches and powerful hydraulics, a 500-pound haul becomes easy and quick. Our products turn a two-man, strenuous job into a one-man, simple task.
ATV Pallet Fork Benefits:
Added Control
Easy Controls
Holds up to 500 lbs.
Simple Yet Solid Design
Fits the Wild Hare Loader Perfectly
Lifts up to 5 Feet
Versatile Implement
Heavy Duty
Improves Efficiency
Hydraulic ATV Front Loader Forks Attachment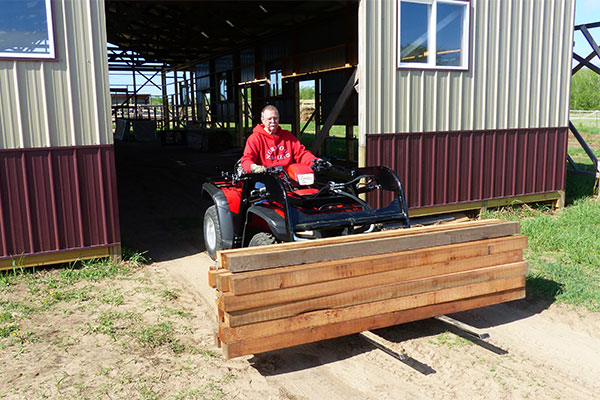 Attach the forklift to your ATV front loader and save time and labor. It just makes sense! Whether you call it a pallet fork, hay pallet, forklift or a hay carrier, this implement can do it all; so we assume our customers will give it many names. With Wild Hare Manufacturing on your side, you can count on the strength and longevity of your lift—and any other product we sell.
Turn a hard day of work into a half-day. That's easily manageable with the help of our fork attachment for your ATV front-end loader. Lift more, do more, finish faster. Who doesn't want that? Transforming your quad into a forklift isn't something you see every day…at least not with other implement systems on the market. There's almost nothing your four wheeler can't do now!
Quality ATV Equipment
Equip your quad with function, quality and greater capacity, equip it with the rugged attachments you can purchase through Wild Hare Manufacturing. All of our products are backed with a year warranty and the pallet fork is no different. You can be confident in your purchase, the company that stands behind it, and its performance. Choose our quality ATV accessories and you'll be back – for good reason. Quads are evolving, don't get left behind.
Our Commitment is to Our Clients
If you have any further questions about The Wild Hare fork attachment we are only a call or email away. Customer service is an important aspect in customer satisfaction and we are dedicated to the contentment of anyone and everyone that purchases the Wild Hare Implement System for ATVs, and any attachments or accessories we provide. Contact Wild Hare Manufacturing by phone at 218-483-1000 or email us at info@wildharemfg.com.