Hydraulic Front End Loader Attachment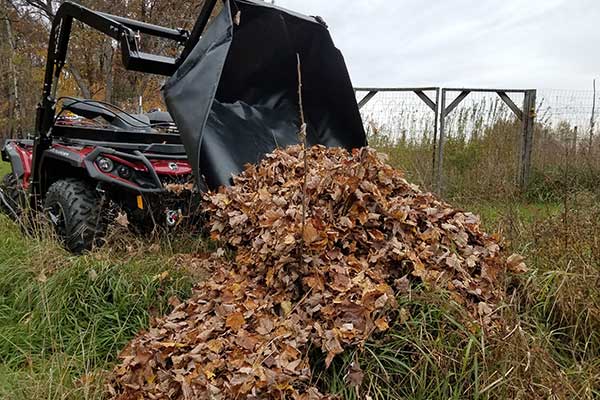 If you're already a big fan of our pallet forks, you'll be glad to know that we now offer our lawn basket attachment, which adds even more versatility to this ATV attachment. We're positive that you're already saving loads of time around your property using the pallet forks and this new lawn basket attachment should be no different.
Easily Attach Lawn Basket to Your ATV
Provided that you already have the pallet forks attached to your ATV, the lawn basket simply attaches to the forks and allows you to instantly have a spot to collect and transport all types of materials. Whether you're moving mulch, weeds, leaves or other debris while simply cleaning up around your property, the lawn basket is the perfect companion that will never quit on you throughout the course of a long day!
The lawn basket can be raised and lowered with one set of rocker switches. This can help turn a two man job into one that you can handle on your own with ease. Once you use the lawn basket attachment, you'll wonder how you ever were able to finish jobs that required moving large amounts of materials. Think of our lawn basket attachment as a powered wheel barrow that you don't have to push. Simply hop on your ATV and transport materials wherever you need to go.
High Quality ATV Attachments
When you purchase an ATV attachment from Wild Hare Manufacturing you're getting a high quality piece of equipment that should significantly boost the efficiency of your ATV. We offer a wide array of ATV attachments, just one of them being our newly released lawn basket. Each of our attachments are backed with a one year warranty, which hopefully should allow you to be completely confident in your purchase.
We offer a hydraulic attachment system, which includes a variety of other ATV attachments that could be beneficial for you on your property. If you're interested in learning more about any of our other ATV attachments, feel free to reach out to the Wild Hare Manufacturing team today.
At Wild Hare Manufacturing We're Committed to 100% Customer Satisfaction
The team at Wild Hare Manufacturing has been creating some of the most versatile ATV attachments for quite some time. We're extremely excited about the new lawn basket and know that it will be a welcome addition to help boost productivity when you're working on your property. With decades of experience in the industry, our commitment is that each of our customers is always 100% satisfied. Should you have any questions about the lawn basket attachment, or any of our other hydraulic ATV attachments, don't hesitate to reach out to us by phone at 218-483-1000 or via email at info@wildharemfg.com. We look forward to helping you add additional functionality to your ATV.