Hydraulic Cultivator Attachment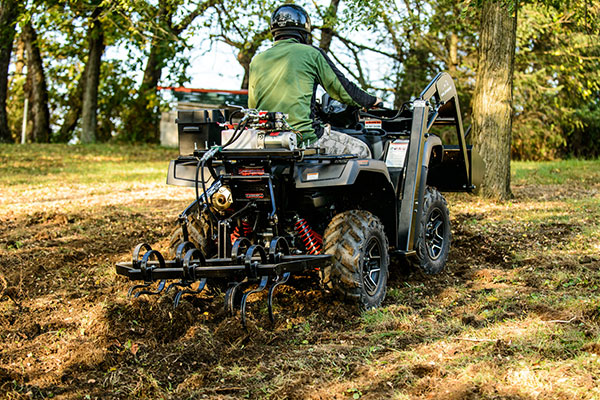 Our hydraulic powered cultivator attachment for your ATV is designed for use with the Wild Hare 3 Point Hitch. This ATV implement is powered by a rear-mounted auxiliary hydraulic kit, using quick connects. You have the capability to control both our front and rear ATV attachments simultaneously (depending on the kit you choose) with slight pressure to the rocker switches. This user-friendly and highly durable implement will not only make your task easier and faster, but also more enjoyable. It's another excuse to get out on your 4 wheeler, while actually being productive.
Hydraulic Cultivator Attachment for ATVs
Hitch up our cultivator to your ATV and say goodbye to tilling, chopping and digging. All you've got to do is attach the cultivator to the center link and the two lift arms with hitch pins, turn the two valve handles on the rear hydraulic system (if necessary) and you're well on your way. It couldn't be simpler! You won't even break a sweat! Make your daily grind more fun, less exhausting and finish with time to spare.
Adjustable Hydraulic ATV Cultivator
In addition to the 6 depth settings, our product stands out from the crowd because it can be raised and lowered hydraulically by the front rocker switch, making your job much easier. Cultivate one area and simply press up on the rocker switch to raise the cultivator out of the ground and travel freely to your next pass, food plot or garden without a second thought.
The Wild Hare Cultivator doesn't bounce around behind you or need added weight. It is secure and gives positive downward pressure, due to the hydraulic 3 point hitch. In fact, it gives so much downward pressure that it can lift the back tires of your quad right off the ground. Less bulk, more control; simply raise and lower the implement with a finger. What more could you ask for?!
ATV Cultivator Specifications:
Solid Steel Construction
4 Foot Wide
Hydraulic Upward and Downward Pressure
7 Replaceable Danish Spring Steel "S" Tines/Shovels
Depth Gage Wheel with 6 Depth Settings
Fits ANY ATV with our 3 Point Hitch
Markets and Applications for the Cultivator:
Food Plots
Weeding
Landscaping
Larger Gardens
Tree Rows
Quality Hydraulic ATV Attachments and Implements
If you need a tractor, by all means pony up the money and purchase one. But if you just don't have the space to store one or enough applications to justify one, our ATV attachments might be your answer. Most people already have a 4 wheeler or two, which will save you the price of a tractor. Make your days a little less strenuous and a lot more productive with the help of Wild Hare Manufacturing. We offer only quality products that securely attach to your quad, so you can sit back and enjoy the ride. We won't steer you wrong. Just look at our testimonials and see the feedback of our extremely satisfied customers for yourself.
Order the Hydraulic ATV Cultivator online or contact us with any questions at info@wildharemfg.com or call 218-483-1000.