Hydraulic Snow Plow Attachment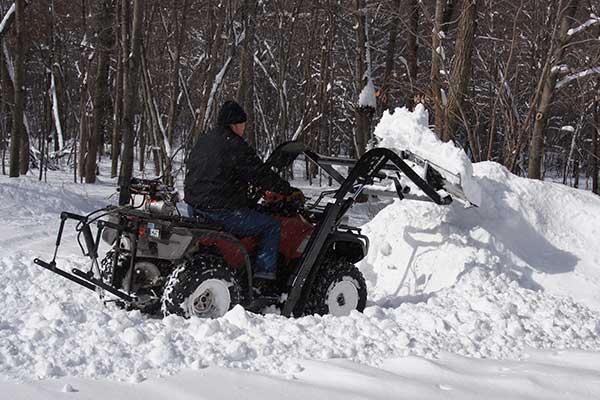 If you're worried about managing the snow on your property this winter, we want to introduce you to one of Wild Hare Manufacturing's newest ATV attachments – the hydraulic snow plow. This hydraulic ATV attachment opens up a world of opportunities when it comes to keeping snow plowed in the tightest of areas in and around your property. Thanks to our snow plow ATV attachment you'll be able to remove snow from areas that are typically inaccessible with larger snow plows and equipment. Say goodbye to the constant shoveling of sidewalks and tight areas and instead rely on the Wild Hare Manufacturing hydraulic snow blade.
Hydraulic Snow Plow ATV Attachment Specs
Our hydraulic snow plow ATV attachment ties into our versatile hydraulic attachment system. Once you have the hydraulic system installed on your ATV, you can easily connect and remove the snow plow blade attachment in as little as 5 minutes.
The hydraulic snow plow can be controlled with a simple rocker switch which supports loads of up to 500 lbs. It's important to keep in mind that the snow plow attachment only pivots up and down on both the arms and the blade, but doesn't pivot right to left horizontally.
This snow blade is built using heavy duty steel and is manufactured to fit almost every make and model ATV that's currently on the market. We recommend a 400CC engine, but you can reach out to our team if your ATV is smaller and we'll see if we can provide you with a suitable custom option. As is the case with all our ATV implements, please check with your ATV manufacturer to see whether or not our attachments void the warranty of your ATV. Also, keep in mind that when traveling with the snow plow, you should never go more than 5 miles per hour.
Use the Hydraulic Snow Plow ATV Attachment With These ATV Makes/Models:
The following ATV manufacturers are compatible with the Wild Hare Manufacturing snow blade:

Honda
Kawasaki
Polaris
Suzuki
Yamaha
Bombardier
Arctic Cat
Off Brands and more…
Wild Hare Manufacturing Hydraulic Attachment System
Our snow blade is just one of many ATV attachments that are available as part of our ATV hydraulic attachment system. Should you have questions about any of our other ATV implements feel free to reach out to our team today. While we're confident that our hydraulic snow blade will be extremely beneficial for use on your property, some of our other attachments may be equally advantageous for you as well.
If you're ready to purchase our hydraulic snow plow ATV attachment, or are interested in learning more about this attachment, don't hesitate to reach out to our team today. We can be reached by phone at 218-483-1000 or via email at info@wildharemfg.com. We look forward to helping you add more versatility to your snow removal efforts with our snow blade ATV attachment.