The New Wild Hare Hydraulic ATV Attachments System
The hydraulic powered Groundhog front end loader is BACK! Where has it been? The demand for the original product has proven to be unceasing and with that knowledge – Wild Hare Manufacturing, Inc. purchased the rights to manufacture this dependable, fully hydraulic front end loader from what was formally known as Concord Equipment.
We are NOT Concord Equipment
. We are a new company that bought out Concord, along with its extra parts and brand assets, to make the exact same products–only we have improved them!
ATV Attachment Product with Warranty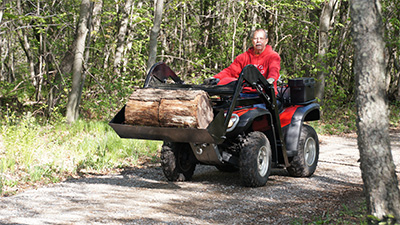 Wild Hare Manufacturing, Inc. is confident in our products, which is why we offer a full-year warranty to the original purchaser. Our products are free of defects in both workmanship and materials. If for some reason the product you received is faulty in either of these ways, we will repair or replace the defected part/s. Just send written notice to us prior to the expiration of your warranty, and cease the use of your product immediately. Be sure to register your product at the time of purchase. Failure to do so will void your warranty.
The Groundhog ATV Front End Loader – now backed by the support of Wild Hare Manufacturing Inc.
We produce only resilient and quality ATV equipment for the people that have a job to do… But that isn't enough to keep prospective, new and past clients from coming back and referring. Our products have to have available parts, support, customer communication and timely responses. Wild Hare Manufacturing has sole ownership of the Groundhog equipment, as well as the attachments and we are accountable, reachable and above all else happy to hear from you. We have many different ways for you to contact us and invite you to choose the most convenient for you.
Thanks for Reading –
Wild Hare Manufacturing Inc.
Phone: 218-483-1000
Email: info@wildharemfg.com.