Hydraulic Box Grader Attachment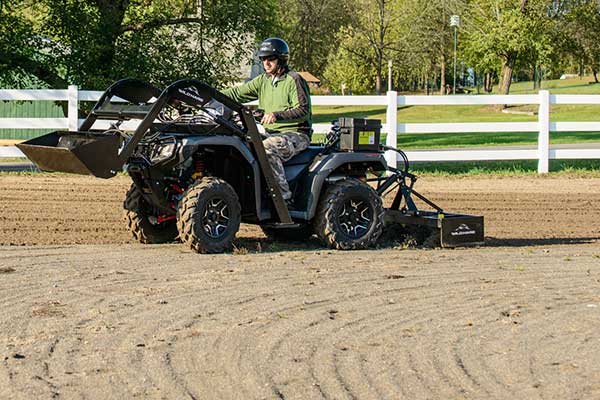 Our hydraulic box grader ATV attachment offers a wide array of opportunities for you. Use this hydraulic box blade attached to your ATV to get more done around your property. Thanks to the hydraulics, you'll be able to use down force to help you easily spread material. This versatile hydraulic box blade runs off of a deep cell battery (not included), which should give you plenty of power. All our ATV attachments are made from high grade steel and are built to work with a wide array of different ATV's.
What Is A Box Grader?
Before you purchase a hydraulic box grade ATV attachment, it's important to understand the many benefits of a box blade. Below are just a few of the ways our clients have used our box blade around their properties:
Grading, leveling and back filling unwanted holes on your property
Break up ground that you'd like to flatten
Smooth out areas of dirt or gravel
Spreading and leveling various types of material
Hydraulic Box Grader ATV Attachment Specs
We've designed the hydraulic box grader to be used on most ATV's. This attachment requires a simple initial installation after which connecting the box blade takes just a few minutes. Our owner's manual recommends at least a 400CC engine. If you have an ATV that's under this limit, feel free to contact our team to determine your options. It's also always a good idea to check with your ATV manufacturer directly to determine if using the hydraulic box grader ATV attachment voids your warranty. When using our hydraulic ATV attachments keep in mind that the max travel speed is 5 miles per hour.
ATV Manufacturer's Compatible With the ATV Box Grader
Honda
Kawasaki
Polaris
Suzuki
Yamaha
Bombardier
Arctic Cat
Off Brands and more…
Offering a Wide Array of Hydraulic ATV Attachments
At Wild Hare Manufacturing, we not only offer our hydraulic ATV box blade, but we also offer a large number of other ATV accessories to fit your needs. At Wild Hare Manufacturing, we're focused on providing the highest quality ATV implements, as well as impeccable customer service both during and after the sale. Remember that when you buy from Wild Hare Manufacturing, you're buying from a company that will always stand behind our products.
To learn more about the hydraulic box grader ATV attachment from Wild Hare Manufacturing, feel free to give us a call today at 218-483-1000 or send us an email at info@wildharemfg.com. We're excited to help you put your ATV to work on your property using one of our highly versatile hydraulic attachments.