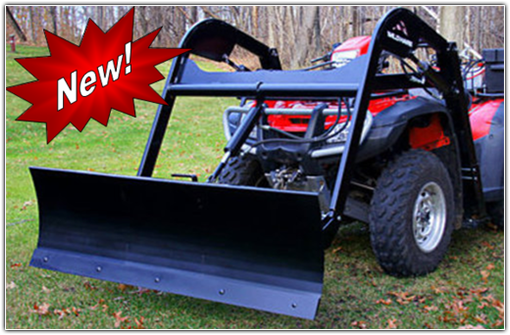 Let it snow, let it snow, let it snow! Heavy snowfall is no longer a problem now that Wild Hare Manufacturing, Inc. has introduced a New ATV Snow Blade Attachment. This powerful yet nimble tool is designed to work perfectly with our fully hydraulic ATV Implement System. At 57" our snow plow blade is larger than many others on the market. It is compatible with almost all 400cc ATV models including popular brands like Yamaha, Honda, Kawasaki, Polaris and Suzuki. Snow Removal has never been this enjoyable. It even looks sexy.
ATV Snow Blade Features
Wild Hare Mfg. has made a reputation as the maker of Durable High Quality Products that are easy to use. Our latest addition is the all new 57" Hydraulic Snow Blade Attachment with a tilting blade.
Compatibility with Wild Hare ATV Implement System
High strength steel blade
Generous 57" blade width
Capable of pushing straight or winging snow left or right
Quick implement change over time in as little as 1 to 2 minutes
Adjust blade height and back and forth pivot from your seat
Powerful hydraulic action
Spring loaded pivot locking system
Raise up to 5 feet high for piling snow
4 way power to raise, lower and tilt blade forward and back
Compatible with most 400cc ATVs
57 inch Hydraulic Snow Plow Blade
A powerful hydraulic ATV implement system can easily push through snow with a generous 57" Snow Plow Blade. This is just one of the many outstanding features of the Wild Hare Manufacturing, Inc. snow blade attachment. The durable, powder coated blade is able to push through and lift snow out of the way. Imagine the looks of envy from your neighbors when you quickly remove the snow from your driveway without breaking a sweat (or your back).
Compatible with Wild Hare ATV Implement System
Wild Hare Manufacturing, Inc. has done it again with the All New Snow Plow Blade Attachment for ATVs. This durable snow plow is designed for perfect compatibility with our Hydraulic ATV Implement System already on the market. You can easily attach the snow plow blade in minutes and quickly be on your way to clearing snow. Pile snow nice and high with a blade that can be lifted up to 5 feet in the air. Could a large snowman be in your future?
To order your own Hydraulic ATV Snow Blade Attachment, contact Wild Hare Manufacturing, Inc. at (218) 483-1000 or email us at info@wildharemfg.com.