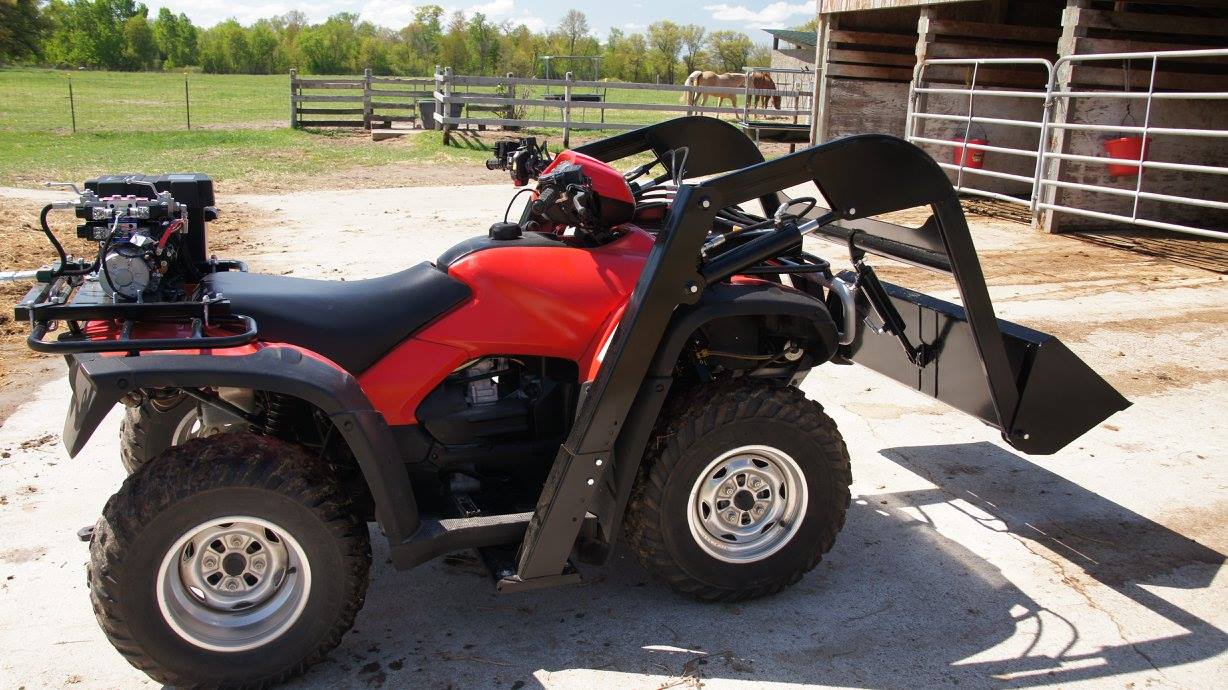 At Wild Hare Manufacturing, Inc., we aren't going to lie. We are extremely proud to offer a quality front end loader for ATVs. We believe it is a valuable tool that opens up an entirely new realm of opportunities for anyone looking to save time, energy and money. Our front-end loader is a useful tool that we know you'll love just as much as we do.
What Exactly is a Front-End Loader for an ATV?
Before we dive into our quality front end loader attachments for ATVs, we feel like it's important to start with how on earth we even created an attachment for ATVs. At Wild Hare Manufacturing, Inc., we saw a real need for quality farming equipment at an affordable price. Therefore, we produce resilient, durable and extremely well made ATV equipment that can attach to almost any ATV. Our front-end loader attachment is a unique and wonderful product that can really change the way that many people do their job on a day to day basis. It has a bucket that fits on the front of the ATV and can be utilized for many different jobs or tasks.
Durability of the Front-End Loader
Now, we know what you are thinking. We understand that it's hard to imagine an ATV being able to handle the job of a front-end loader tractor. So, here are some specifications for you. Our front-end loader is a fully hydraulic four-wheeler bucket. It is specifically designed with suspension locks that can hold and lift up to 500lbs. The hydraulics make it easy to back-blade and there is a substantial amount of pressure when both lifting and lowering the bucket making it easy to load anything. The front-end loader can elevate up to five feet off of the ground and is made from steel, making it strong and durable. Operationally, the simple rocker switch controls make it incredibly easy to lift and lower any load. While it fits almost any ATV, we recommend a 400cc engine to get the most out of this product.
The Ease of Accessibility
One of the reasons why this product is so unique is because of its versatility. All you need to do to use the front-end loader is to install the mounting equipment one time. This process may take you anywhere from 45 to 60 minutes. After that is installed you can easily connect and remove the front-end loader attachment in 5 minutes. This allows you to utilize your ATV in a variety of different ways. Whether you attach on a different tool or restore your ATV back to its original state, Wild Hare Manufacturing, Inc. makes this transition as smooth as possible.
For more information about our front end loaders for ATVs, give Wild Hare Manufacturing, Inc., a call today at (218) 483-1000 or send us an email at info@wildharemfg.com.