Are you tired of not being able to utilize your tractor and other large equipment because of how badly it tears up the ground or because it is so big that you can't maneuver around in those tight areas? Well we've got a great solution – please read on!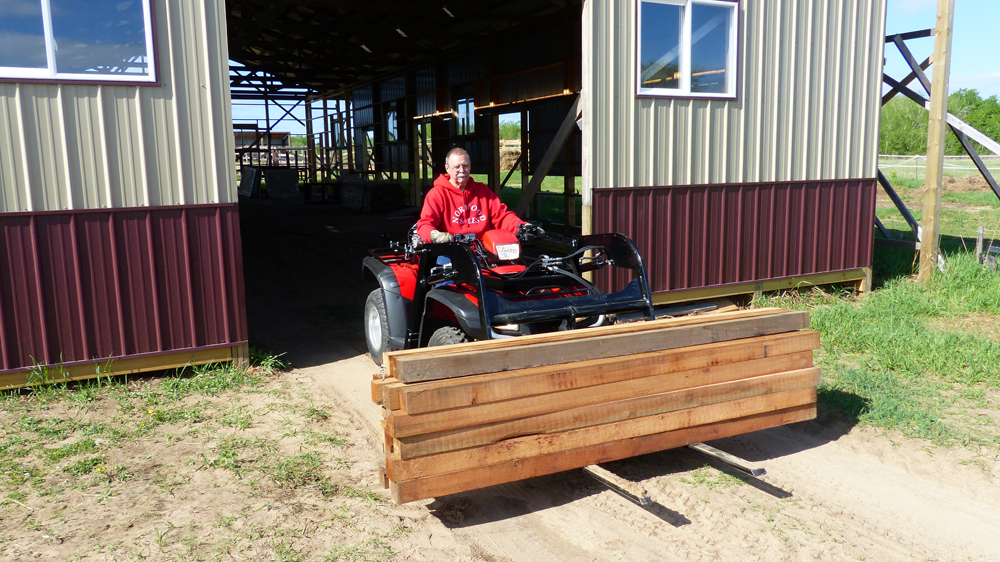 We are excited and proud to once again be selected for publication, this time with Farm Show Magazine, who chose to include us in their "What's New" page of their current issue! (Volume 40, Issue 1, 2016) You can read the entire article here: //www.farmshow.com/view_articles.php?a_id=1611. Farm Show Magazine editors have logged millions of miles in search of the latest NEW farm products and ideas. It is for everyone in agriculture and has been in publication for the past 40 years.
In this issue, one of the editors told his story of how he had purchased a Groundhog loader for his 4wheeler back in 2004. This purchase included a bucket, a blade and a posthole auger which he used at his wooded home site and on his farm. When Groundhog ceased being manufactured he became worried, until he discovered that Wild Hare Manufacturing (new ownership) had reintroduced it as the Wild Hare Implement System. He called Wild Hare and found out that the Groundhog (as he had known it,) had been redesigned and that the loader now had more power, more attachments available, and also has a more dependable power source.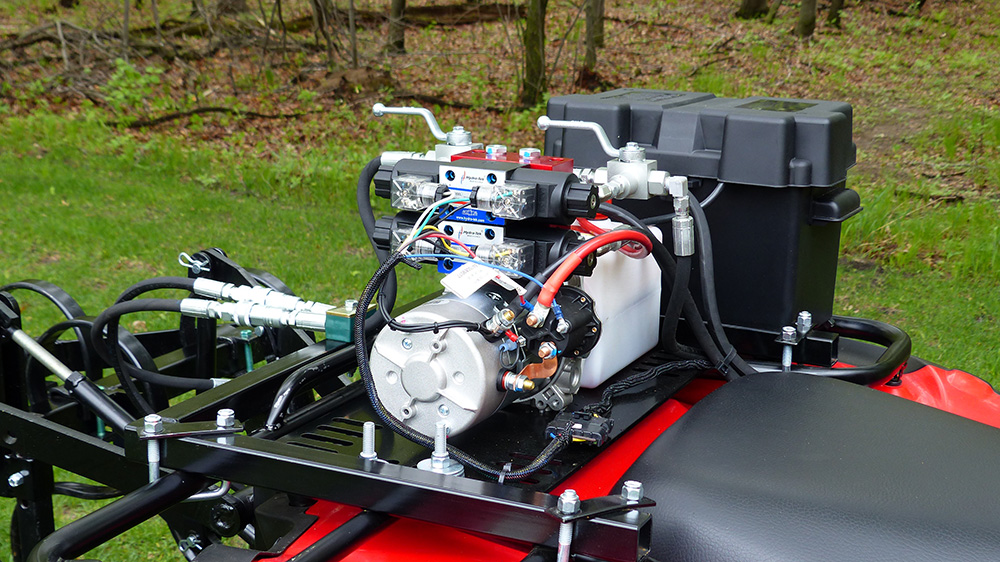 He was also happy to hear that Wild Hare had extended the snow blade length from 48 to 57 inches. When keeping his 450 foot driveway clear of snow, it was fun and fast but now the wheel track matches the blade width, which will be a big help in keeping the snow banks from piling up!
A total win, all the way around!
Yes, it's all true! Wild Hare boosted the hydraulic system by switching the power source to a separate category 24, 12 volt deep cycle battery. They determined that the previous design had too much drain on the system due to it tapping into the ATV's battery as its main power source. By adding a newly designed hydraulic pump and a deep cycle battery box, and then physically relocating it from the front to the rear we were able to achieve better counterbalance. The increased power means an operator can literally lift his ATV off the ground, supporting it with the down pressure of the front loader and a rear hydraulic attachment!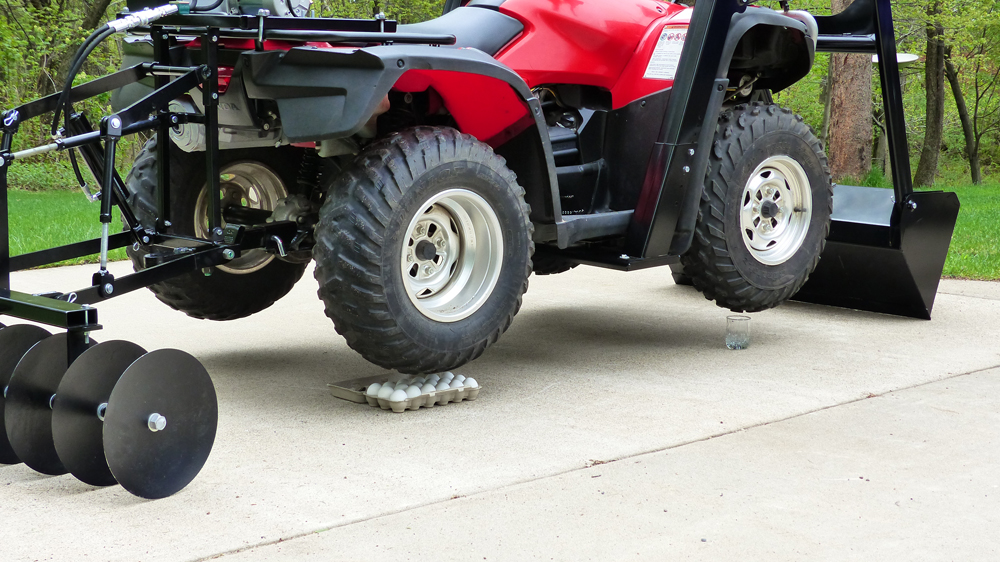 Now that is some impressive strength AND power!
The new hydraulic system gives you pinpoint precision control of your loader allowing you to back drag gravel, dirt, or sand with the bucket, or easily pick up pallets and other materials with the forks. Unlike most winch style buckets and blades, the loader will lift up to 500 pounds and lift it up to 60 inches off the ground. If that's not enough, it will also hydraulically dump your load, without it being necessary to reset the trip on the bucket. Just move the bucket back into position with the simple thumb operated toggle switch. Oh, and by the way – your winch has never even been touched! It is still available just in case you get stuck! But then there's this – if you do happen to get stuck – chances are you'll be able to walk yourself out of your predicament by pressing your bucket into the ground and tilting it forward with the hydraulics, pushing your whole ATV backwards… and out! (Pretty cool huh?)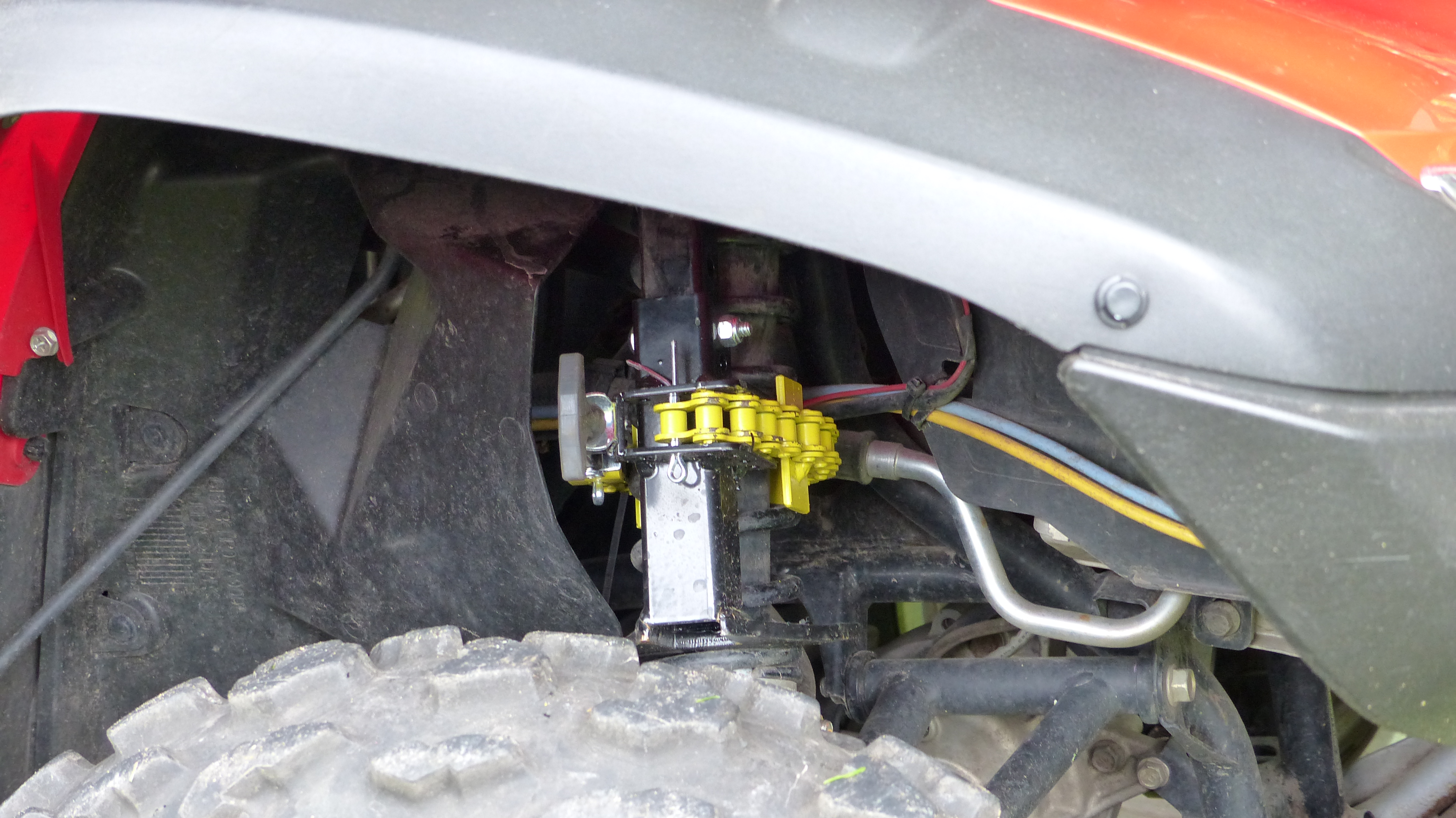 And if we haven't already thought of everything, we've also included a complete set of suspension locks that will stiffen up the front end of your ATV when you're hauling those heavy loads.
Starting to see a big difference?
Hold on – there's EVEN MORE…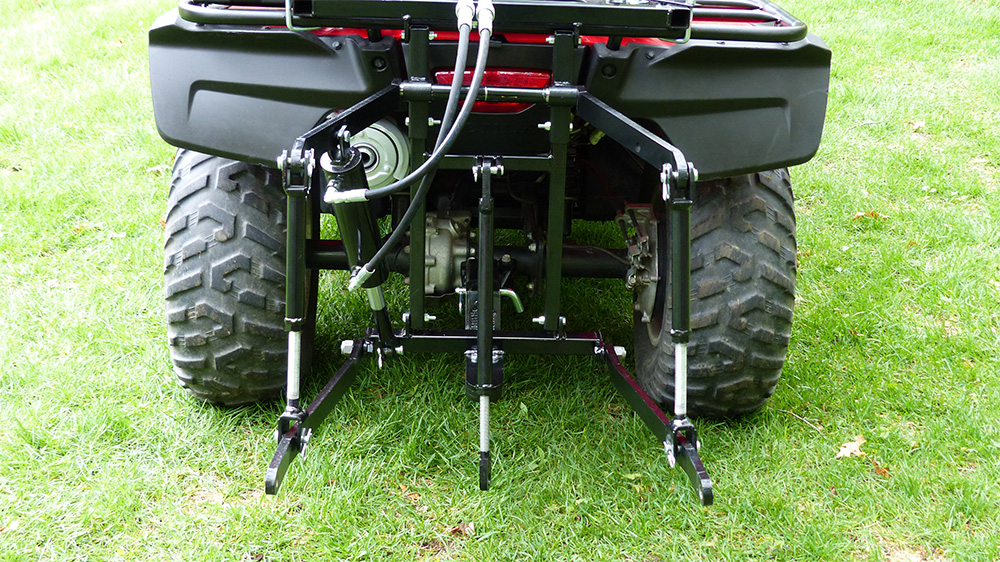 Wild Hare also added a 3 point hitch with more attachments available including a rear 48 inch cultivator and a rear 57 inch disk harrow. The hydraulics can be switched to operate the rear which moves the control to the 3 point hitch, therefore controlling the implements that attach to it.
Stay tuned … because this spring Wild Hare Manufacturing will be introducing more attachments for your system!
Pull out your recreational ATV and turn it into a workhorse around your yard, stable, barn, resort, cabin, or construction project! You can use your Wild Hare ATV Implement System for landscaping, gardening, hauling and cutting wood, planting food plots, putting in a lawn, construction work, fall clean up, plowing snow, driveway maintenance, cleaning stalls, hauling hay and feed, and anything else you happen to run across.
Take a look further around our website, we know you will be glad you did! Our implements are priced separately as well as in discounted packages!
Thank you Farm Show magazine, for including us!
Wild Hare ATV Implements, Superior to the rest!