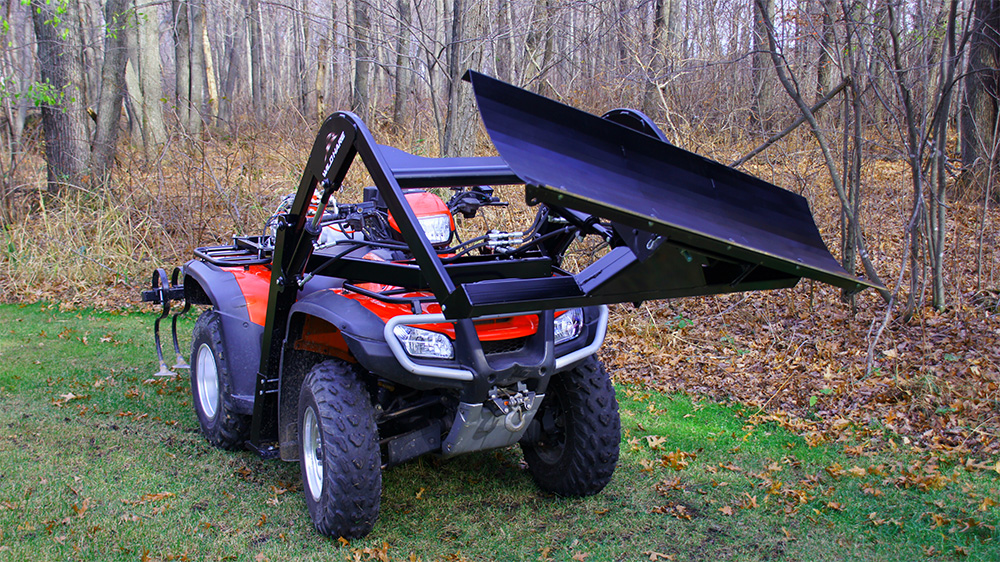 In neighborhoods and on social media across the northland people are looking for advise on Snow Removal Equipment that can be used at home. Individuals with an ATV now have a great option with the Snow Plow Kit built specifically for ATV vehicles. With this new snow blade from Wild Hare Manufacturing, Inc. you can clear your driveway of snow in a snap. There's no need to risk injury by shoveling the driveway or waiting for a commercial snowplow truck to arrive. The snow blade is just the latest addition to the Wild Hare Mfg versatile ATV Implement System.
Snow Plow Kit for Mounting on ATV
The kids aren't the only ones who will be looking forward to the next snowfall when you have a Snow Plow Kit for mounting on an ATV. Made of heavy-duty steel with a durable powder coat finish, the Wild Hare Snow Plow Blade makes a smart statement. 3 double acting hydraulic cylinders create the power needed for fast snow removal. It is made with safety features with a spring loaded pivot lock and blade controls that are operated from the safety of your seat.
Versatile ATV Implement System
Recreational vehicles are made for fun and for work. The same 4 wheeler that you use to drive through the mud or reach a remote deer stand can be used for much, much more. ATV Accessories from Wild Hare are available individually or as a packaged set. Choose from the following equipment built for ATVs:
ATV Front End Loader with full hydraulic power
ATV 34" Pallet Forks
Hydraulic ATV Rear 3 Point Hitch (stand alone or add on options)
ATV 48" Cultivator Attachment
ATV 57" Disc Harrow Attachment
ATV 57" Snow Plow Blade Attachment (NEW!!!)
All In One Package
Country Living / Garden Package
Maintenance / Landscaper Package
Equestrian / Resort Package
Sportsman / Hunter Package
Powerful Hydraulic ATV Accessories
What could be better than having a Powerful Hydraulic ATV Implement System that can plow through snow and act as a workhorse all year round? Wild Hare Manufacturing, Inc. has built an impressive line of ATV accessories that work together in perfect harmony. Check out the ALL NEW Snow Plow Blade Attachment designed for use with Wild Hare's hydraulic implement system.
Order Online or by Phone to get the New ATV Snow Plow Kit from Wild Hare Manufacturing, Inc. at (218) 483-1000 or email us at info@wildharemfg.com.