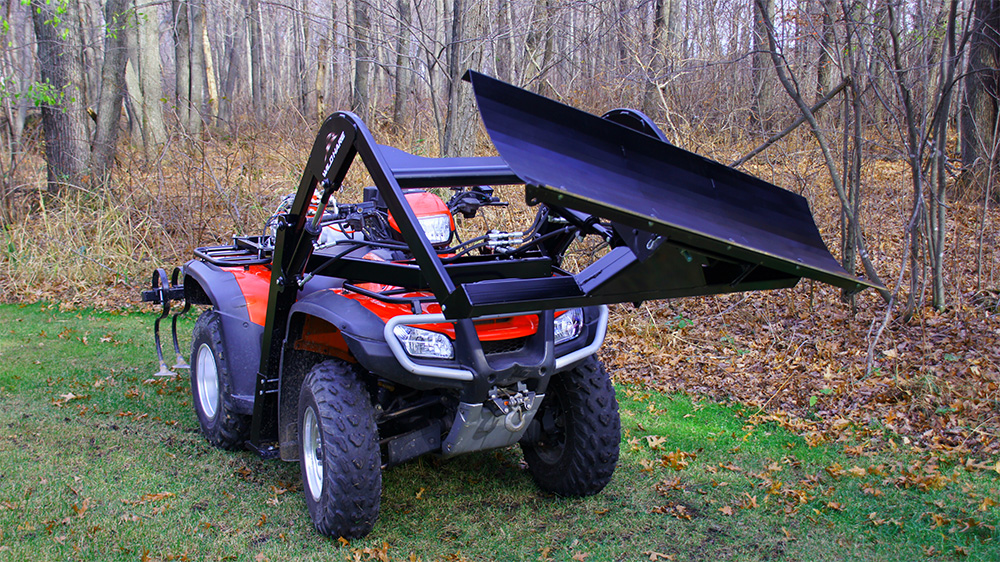 Well, if you live up north then you've already received what we like to call "a snow bashing" this winter. It's only early December and the snow has not really hit us yet but that doesn't mean we are out of the woods… Instead of grabbing that ever so coveted snow shovel when this season finally shows it's true colors, why not just hop on your ATV? No, we aren't suggesting you ride to work on your 4-wheeler. Although, if you could, please take a picture! We'd love to applaud you! For those of us who need real transportation to work, digging out of the snow and ice has gotten a whole lot easier! Using Wild Hare Manufacturing, Inc.'s ATV front end loader for snow removal has allowed many folks to hit the snooze button one more time on those cold, snowy days.
Your ATV Front End Loader
No matter what season we are in, Wild Hare's ATV attachments are good for digging, lifting, plowing, dragging, pushing, or leveling just about anything. Specifically, our new Snow Plow Attachment for the ATV front end loader can very quickly move those snow mounds out of the way, leaving your driveway, sidewalk, or whatever you are needing to access, free and easy to access. Some of the many front end loader features include:
Suspension Locks
Electric Hydraulic Lift Pack
Raises up to 5 Feet High
Double Acting Cylinder
Rocker Switch Controls
Let's Sum It All Up
Do you love your vertebrae? If you enjoy having a nice back, stop trying to break it by shoveling snow all winter long! We can't control the weather, but we can control the way we handle it. Our ATV front end loader is easy to attach, as is the Snow Shovel Blade. With just a simple flick of a button, you are removing and shoveling snow quicker than you ever have before. While nothing can replace the heftiness of a tractor, this sure is a close second. So unless you have a tractor in your garage, this really is the best option for all of those winter months.
Whether you are removing snow or cleaning up manure in the stables, the Wild Hare ATV front end loader and its many implements are a great option for you all year long. For more information on Wild Hare Manufacturing, Inc. please call us today at (218)483-1000.