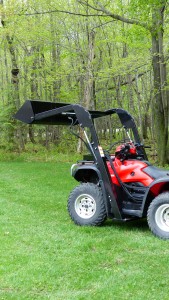 Calling all Yamaha ATV fans who want to get all they can out of their quad. The Yamaha all terrain vehicles are designed to be durable and powerful with extreme off-road capabilities. Now you can utilize your nimble recreational vehicle with the Highly Maneuverable, Hydraulic, Quad Front End Loaders from Wild Hare Manufacturing, Inc. We build one of the most versatile Yamaha ATV Attachments on the market. The Groundhog is so much more than a dump bucket with its fully hydraulic powered system that gives you maximum power when moving both Up and Down.
Versatile Yamaha ATV Attachment
Think of the endless possibilities you can have with a Hydraulic ATV Front Loader. You can transform your off-road machine into a durable workhorse that can handle most any chore around the home, cabin, hobby farm or hunting expedition. The Groundhog is highly maneuverable to move around in tight spaces where a traditional subcompact tractor cannot go.
Hydraulic Front End Loader
A powerful Hydraulic Quad Front End Loader provides capabilities that others do not have. Most ATV dump buckets rely on a winch system that gives you limited vertical lift and no power while moving down. The Groundhog from Wild Hare Manufacturing provides enough downward pressure to be effective for Digging and Back Dragging. This Yamaha ATV attachment utilizes its Hydraulic Pressure to lift up to 500 pounds – up to 5 feet off the ground. Now that's taking your Yamaha Quad to the next level!
Attaching and Removing Four Wheeler Accessory
The Groundhog is an easy to use and highly maneuverable piece of Hydraulic Equipment when attached to your Yamaha ATV. Initial attachment of the quad front end loader is relatively simple and takes just about 45 minutes to 1 hour to complete. You will need a few tools for Mounting, Installation and Suspension Locks (included). After the mounting plate is securely attached, you can literally attach and detach the Groundhog.
Quad Front End Loader
The Groundhog from Wild Hare Manufacturing, Inc. just may be the most important and versatile piece of equipment you own for you Yamaha ATV. This highly maneuverable, Yamaha ATV Attachment transforms your off-road vehicle into an efficient working machine. The Groundhog utilizes Hydraulic pressure when moving both Up and Down. You will not find a better made or more useful Quad Front End Loader for your Yamaha.
Call Wild Hare Manufacturing, Inc. at 1-218-483-1000 or email us at info@wildharemfg.com. We would Love to hear from You!