Home of the New Groundhog ATV Front End Loader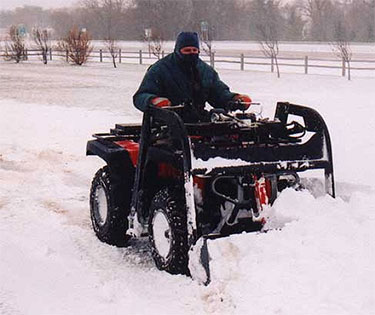 Here you will find updated information about new quad accessory releases, videos of how our clients have been putting our products to work, and a more in-depth look at the products and applications for the Groundhog, its attachments and our other ATV accessories. Everyone uses their quad for different things, we just make it easier, more efficient and (dare we say) more amusing!
Make your quad more versatile by purchasing our solid front end loader, its attachments and the other products we make specifically for ATVs.
The Perfect Job for the Groundhog and your Quad:
Landscaping – Move rock, wood chips, trees, shrubs, and more while keeping the yard intact.
Grounds Keeping – Maintaining your resort, larger commercial or residential property has never been so easy.
Stable Upkeep – Horses need to eat; effortlessly bring them hay and scoop up what remains.
Hauling – Transport logs, feed, and anything else.
Leveling – Equip your four wheeler with the power to flatten mountainous terrain.
Back Dragging – There's no need to take out your truck or a tractor, your four wheeler can now handle the job.
Snow Removal – Plow narrower spaces and pile snow 5 feet or higher.
Give the job to your quad, sit back and just push buttons, while the hydraulic powered front end loader will carry all the weight. Our product is superior to anything else on the market today. Order yours online or contact us for questions at 218-483-1000 or email us at info@wildharemfg.com.