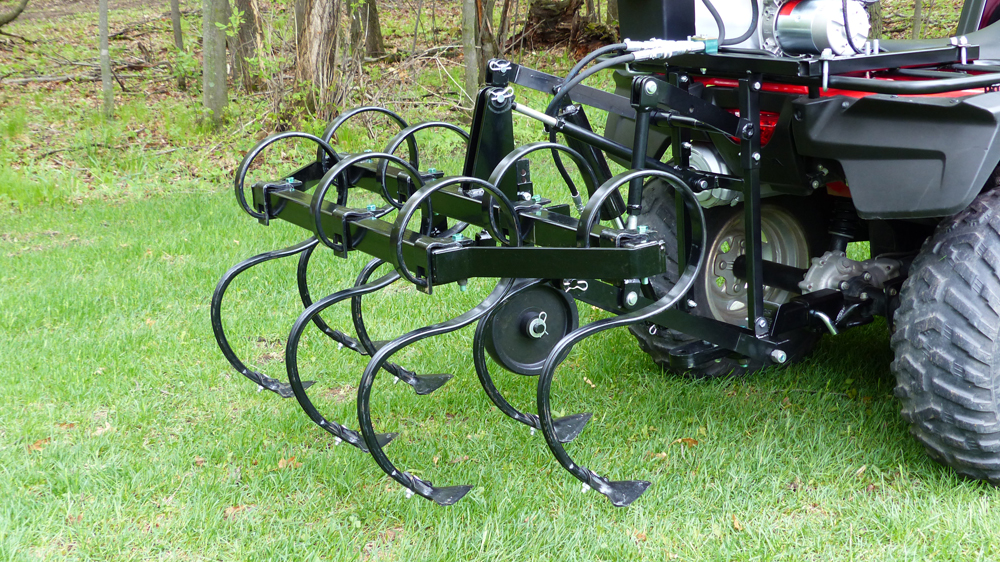 At Wild Hare Manufacturing, Inc., we are thrilled to offer versatile hydraulic ATV attachments that can fit almost any make or model. Do you own a Suzuki ATV? If so, you are in luck! Our attachments are ready to go! That's right, turn your Suzuki ATV into a workhorse of sorts with our hydraulic ATV attachments at Wild Hare Manufacturing, Inc.
If you already own a Suzuki ATV, then guess what? You've already completed the first step. Buying an ATV is likely your highest expense. At Wild Hare Manufacturing, Inc., we offer these attachments for those looking to save money on buying multiple, expensive tractors that only do one particular job. With our hydraulic ATV attachments, you can utilize your Suzuki ATV to do the work of many different tractors. So how do you attach the attachments? For the front end, all you need is the mount. The front mount takes about 45 minutes total to install initially but once it is on, your life gets a whole lot simpler.
Hydraulic ATV Attachments For Suzuki
ATV Front-End Loader
Once your mount is installed permanently, your Suzuki can easily transform from a simple ATV to an ATV with a Front-End Loader. This bad boy takes less than a minute to put on and remove and can lift up to 60" at 500lbs. It's suspension hydraulics locks to support all of the added weight and prevent the compression of your front springs on the Suzuki.
Front-End Pallet Forks
This ATV attachment can lift hay bales, rearrange pallets, move large boxes, transfer fence posts and relocate wood piles. It is simple to swap out and has the same lift capabilities as the front-end loader along with tilt options for your convenience.
Rear Mount Attachments
Did we mention that the Suzuki can have rear mounted attachments too? With our Rear 3 Point Category "O" Hitch, your ATV just became three different tractors. Similar to the front install, once this hitch is on it allows for your rear attachments to swap in and out in no time at all.
Rear 3 Point Cultivator
The Rear 3 Point Cultivator is a fantastic option for tilling, weeding, creating food plots, making large gardens and so much more. It easily slips on and off the hitch and allows you to get the job done in record time.
Rear 3 Point Disc
This attachment will be your best friend should you own a lot of property. It can bust up sod, aerate the soil, annihilate dirt chunks and level the ground out without even breaking a sweat. Imagine the time you could save.
At Wild Hare Manufacturing, Inc., we are proud of the hydraulic ATV attachments that are eligible for Suzuki quads. If you have any specific questions about our attachments, feel free to contact us today. Give us a call at 1(218) 483-1000 or send us an email at info@wildharemfg.com.