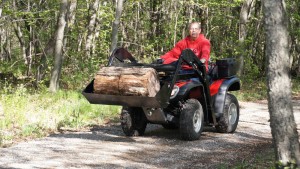 Wouldn't you love to optimize your Suzuki ATV with a great Quad Attachment that can lift up to 500 lbs.? The Front End Loader manufactured by Wild Hare fits Suzuki quads and is equipped with a hydraulic system that provides all the power you need to complete tasks easily. This front end loader has easy to use suspension locks. You can ease your workload without breaking the budget with buying a new tractor. Wild Hare Manufacturing, Inc. makes a very versatile and durable Hydraulic Front-End Loader that is as fun to use as it is easy to use. We manufacture four wheeler attachments that make your life easier whether you live on a ranch, work as a landscaper or simply want to maintain your property.
Suzuki Front End Loader
With a Suzuki Front End Loader attachment the list of applications keeps growing day by day. This durable ATV accessory can Lift Up to 500 lbs. while raising the cargo up to 5 feet high. If your day involves heavy lifting or the use of a wheelbarrow, our quad attachment is perfect for you. We utilize a powerful Hydraulic system that provides power with raising or lowering the bucket. You can drag, pull, lift and scoop anything from hay bales to gravel, snow, mulch and more.
Easy to Use Suspension Locks
Ease of use is just about as important as lifting power when it comes to a quad attachment. The Wild Hare Front End Loader comes with Easy to Use Suspension Locks that you can install yourself in less than an hour, with no other ATV modifications. After the initial installation, it takes mere minutes to attach or remove this quality Front End Loader.
Versatile Suzuki Quad Attachments
Your workload can be much easier to handle due to the very versatile Suzuki Quad Attachments from Wild Hare Manufacturing, Inc. We make a very durable line of products designed to complete your work more efficiently so you can have more playtime with your Suzuki ATV.
Front End Loader
Front End Pallet Forks
Rear 3 Point Hitch
Rear 3 Point Cultivator
Rear 3 Point Hitch
First In Class Front-End Loader
Wild Hare Manufacturing, Inc. brings you a remarkable Front End Loader that can lift up to 500 lbs. due to its powerful hydraulic system. This quality quad attachment can help you to complete back-breaking work without breaking your back (or budget). We provide you with Easy to use Suspension Locks that do not require further modification to your Suzuki ATV. We think that you will enjoy finding new ways to utilize your Suzuki Front-End Loader all around your property.
Call Wild Hare Manufacturing, Inc. at 1-218-483-1000 or email us at info@wildharemfg.com. We would Love to hear from You!