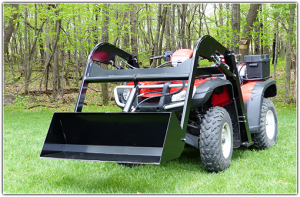 Is hunting your passion? There is nothing like the feeling of being out in the woods, soaking in nature and watching game approach. Over the years, you have improved your skills and now can count on being able to take down a large deer on each of your hunting trips. What is more difficult is transporting your kill back home? Wild Hare Manufacturing Inc. has a solution that will work for you. You can now purchase attachments for your ATV that can transport your kill from the woods back to your vehicle, or your property. Our Sportsman/Hunter package is tailored just for you!
Sportsman/Hunter Package Includes The Following Equipment:
2 Position 57″ Disc
Hydraulics
Mounting Hardware
Heavy Duty — package weighs 343 lbs.
This package is essential for anyone trying to move heavy kill from one place to another. The price for the package is very reasonable and less than purchasing all of these parts separately. You can purchase the Sportsman/Hunter Package from Wild Hare Manufacturing Inc. for $3269 (plus shipping). The cost of buying the equipment separately would be $3633. You should note that the battery and Hydraulic Fluid are not included in this package.
Benefits of ATV Attachments and Implements
All of Wild Hare Manufacturing's attachments are powered by hydraulics, which means that you can count on the strength of our products. They can lift or push with 500 pounds of force and lift up to 5 feet high. All attachments are very easy to install, easily adjustable and can fit most ATV bodies. These attachments can help you with more than hunting. They are often used instead of a tractor for landscaping, hauling all types of heavy loads of dirt, rocks, snow plowing or moving bales of hay or manure. There are endless uses for the ATV attachments – and are a great way to get more use out of your ATV.
Order your Quality ATV Hunting Attachments Today
Wild Hare Manufacturing Inc. takes pride in the service we provide. You receive a 12 month warranty on the workmanship and materials from the day that the equipment is delivered. Our customer service is available to answer any questions that you might have and can help you determine exactly the right equipment or package to meet your needs. You can reach us by calling 1-218-483-1000 or by emailing info@wildharemfg.com.