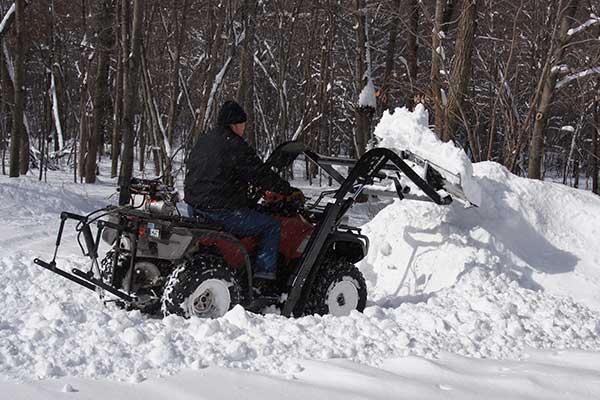 It's the time of year again where we start preparing for mother nature's white clouds to fall to the ground engulf our driveways and roads. At Wild Hare Manufacturing, Inc., we know how frustrated this season can be. It's hard to justify buying a large snowplow just for one season but in the same respect, it's a necessary item to have and an extremely useful tool that comes in handy. At Wild Hare Manufacturing, Inc., we have a solution that's best for both worlds. Introducing, our ATV 57" Snowplow Blade Attachment! Keep your storage area clear this season while also having a snowplow ready when needed. Snow removal is easy this year using your ATV snowplow attachment blade.
ATV Snowplow Blade Attachment
Our ATV 57" snowplow blade attachment is a game changer for anyone that receives a fair amount of snow during the winter months. This blade can be utilized for pushing or winging snow to the right or left. It has a 57" blade width and is made from high strength steel. With a higher strength to weight ratio, this means that our plow has a greater ductility and toughness to it than your ordinary steel. The blade is spring loaded for safe operation and has an easy manual rotation of the blade to the left or right by using the spring loaded pivot lock handle. There are three double acting hydraulic cylinders that provide four-way power operation for raising and lowering the blade. It also has the ability to tilt the blade forwards and backwards. This attachment can be raised up to 5' for high snow piling and has a durable powder coat finish to improve its longevity. It weighs approximately 55 lbs and is the perfect compatibility with our Wild Hare ATV implement system.
ATV Hydraulic Plow Attachment
So how do we change an ordinary ATV into a useful tool like a snowplow? The process is simple. There is a one time mounting plate experience that is continuously kept on your ATV. Once the mounting plate is in, it takes anywhere from 2-5 minutes to attach and remove the snowplow attachment blade. By utilizing this system, you can essentially turn your ATV into anything you want. Tractors and snowplows are both expensive and require a large space to store. Using your ATV is one of the easiest and most fruitful ways to get the job done the way a tractor or your snow shovel isn't capable of doing.
For more information about our ATV snow plow blade attachment or to find out more information about our Wild Hare Manufacturing, Inc., ATV attachment system in general, give Wild Hare Manufacturing, Inc., a call today at 1(218) 483-1000 or simply email us today at info@wildharemfg.com.