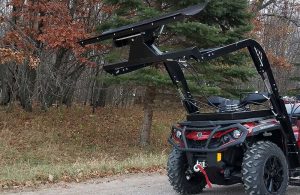 Snow accumulation is something that the Minnesota community has to deal with on a regular basis during the cold months of the year. Rather than having to pull out that shovel and spend an entire day trying to clear your driveway and sidewalks, what if you could pull out your ATV that has been collecting dust and put it to work? Well, thanks to Wild Hare Manufacturing, Inc., and our snowplow blade with hydraulics for an ATV, this dream can become a reality! Just think about how much less time you'll have to spend thanks to this highly effective ATV attachment.
Easier Way to Manage your Snowfall
Minnesota property owners spend far too many hours each year shoveling snow. Rather than this being such a manual process, our snowplow blade with hydraulics attachment can make this task much simpler. Another reason this new ATV attachment is so great is because you're able to clear even those difficult to reach areas on your property. Once you have installed the initial one-time mounting equipment, which takes about 45-60 minutes, you will be able to connect and remove your snowplow hydraulic blade in as little as 5 minutes.
Important Details to Keep in Mind
When using the snowplow blade with hydraulics, we encourage you to use a 400CC engine. When your snowplow hydraulic blade is in use, we recommend that you keep your speed below 5mph. Made from heavy duty steel, this unique snowplow blade can withstand up to 500 pounds of weight. It is also very important to know that this attachment only pivots up and down, not left to right.
Works Great with Most ATV Models
The snowplow blade with hydraulics attachment works great with most ATV makes and models. Whether you've got a Honda, Kawasaki, Polaris, Suzuki, Yamaha, Bombardier or Arctic Cat ATV, our team at Wild Hare Manufacturing, Inc. has you covered with your snowplow blade needs.
At Wild Hare Manufacturing, Inc., we're here to help make the snow removal process in Minnesota much easier for you. So, put down the shovel and hop on your ATV. It's time to invest in our proven snowplow blade with hydraulics for your ATV. To learn more about this great ATV attachment or to place your order for this attachment, give us a call today (218) 483-1000 or email info@wildharemfg.com.