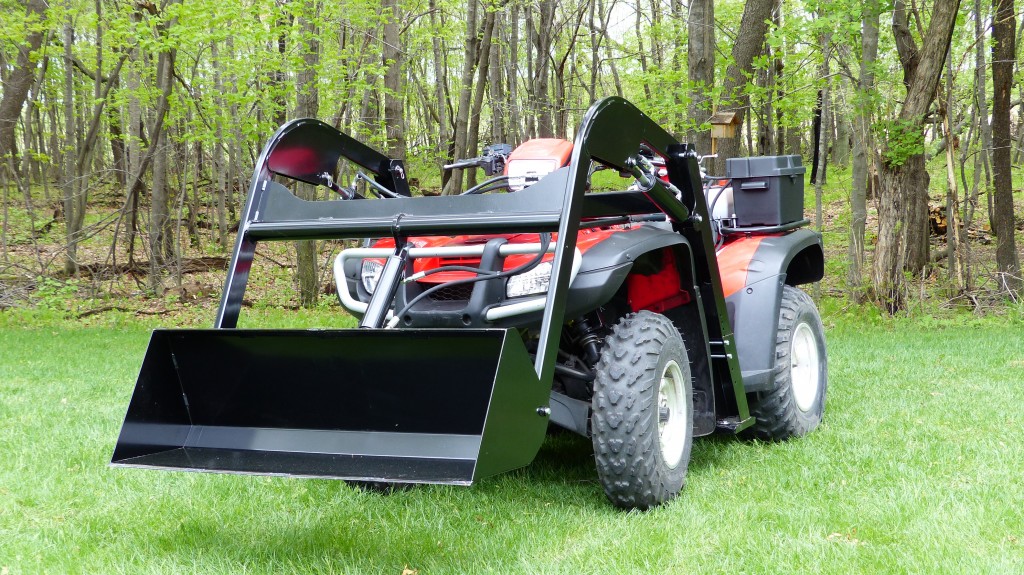 Wild Hare Manufacturing, Inc. can help you prevent injury and save your back with the hydraulic front end loader. If you have experienced a back injury, you understand that doing any kind of heavy lifting, even after you are healed, can put you at risk of injuring your back again and even more severely. Many people who have felt the debilitating pain of a back injury try to limit their heavy lifting for outdoor projects by using a wheelbarrow. However, getting the haul into the wheelbarrow requires significant bending and lifting, which can still make your back vulnerable. The Wild Hare Hydraulic ATV Front End Loader will make your outdoor work easier and completely eliminate the strain on your back.
Functionality of the Hydraulic ATV Front End Loader
As the name suggests, our hydraulic front end loader works by attaching to your ATV. It can attach to virtually any ATV, but we do recommend a 400CC engine for this product. Once the mounting installation process is complete, removing it for storage and replacing it for your next job requires only minutes. The hydraulic system of the front-end loader is impressive. Lifting and lowering the bucket provides significant pressure. We designed this loader to be tough and strong. It is capable of lifting 500 pounds, and the bucket goes all the way up to 60 inches, depending on the ATV. So whether you need to move soil, mulch, logs, snow, or any other load of significant weight, our front end loader will do the job with ease.
If you have ever completed a job that requires heavy lifting and moving, and then suffered a back injury, you understand that future jobs must be tackled with greater care. A back injury affects every aspect of your life. Unfortunately, if your job or your home life requires hauling heavy items or removing snow, these tasks do not disappear just because you hurt your back. If you have an ATV, the purchase of a Wild Hare front end loader allows you to do all of the jobs that you need to without worry about a recurrence of your back injury.
Make Lifting and Moving Items on your Property Easier
Over time, we adapt tools to be more helpful to the work we have to do. Shovels helped us dig and move soil, and their functionality helped us invent the wheelbarrow. The front-end loader is an advancement on those tools, and what is arguably the greatest benefit of the front-end loader is its ability to do greater amounts of work without placing the health of your back at risk. Call Wild Hare Manufacturing Inc. at (218) 483-1000 or email info@wildharemfg.com for more information.