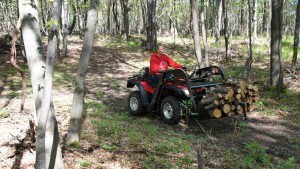 After you try out the (formally known as Groundhog) Hydraulic Front-End Loader for Landscaping you will wonder how you ever got by without it. This powerful ATV attachment is very versatile and capable of cutting your work time in half. No more tired back from hauling supplies around in a wheelbarrow. Wild Hare Manufacturing, Inc. builds a durable Front End Loader that is powered by hydraulics. Other ATV dump buckets use a winch system that does not provide the heavy lifting power that our hydraulic attachment provides. You can lift up to 500 lbs. up to 5 ft. off of the ground. Add our Heavy Duty Pallet Forks to complete the package. Just think of how much simpler your work life can be.
Put Your ATV to Work Landscaping
Landscaping can be a very rewarding job but also very hard on your back. If you could simplify your job with an innovative piece of machinery that saves you time and back pain, would you be interested? All you need is an ATV and your imagination to go along with the Groundhog Front-End Loader and Pallet Forks. The Pallet Forks accessory easily attaches to the powerful ATV Front Loader.
Easily Haul Landscaping Materials
The Powerful Hydraulic Front End Loader can scoop, lift and carry many of the materials that landscapers use every day. You can haul landscaping and gardening materials into areas that a larger tractor cannot go without causing damage to the yard. Attach the Pallet Forks Accessory to lighten your burden even more by lifting pallets of supplies.
Mulch
Gravel
Sod
Compost
Soil
Plants and flowers
Trees and shrubs
Rocks
Logs
Wood chips
Patio pavers
Rocks
Fertilizer
Pallets of supplies
Hay or straw bales
Retaining wall blocks
Powerful Hydraulic ATV Attachment
The Groundhog utilizes a Powerful Hydraulic system that enables users to apply pressure when moving the 4 wheeler bucket up or down. You can back blade to smooth grade and level the surface. Wild Hare Manufacturing, Inc. engineered the Groundhog ATV Attachment to fit almost any manufacturer's model.
Powerful Hydraulic Front-End Loader
Wild Hare Manufacturing, Inc. builds incredibly versatile accessories for your ATV. The Powerful Hydraulic Front End Loader is packed with enough power to make a landscaper's job much easier. Couple that with the heavy duty Pallet Forks Attachment and you have one heck of a useful piece of machinery. Lift, dig, scape and haul all of your landscaping materials with ease. You may wonder what you ever did without an ATV Front-End Loader for Landscaping.
Call Wild Hare Manufacturing, Inc. at 1-218-483-1000 or email us at info@wildharemfg.com.