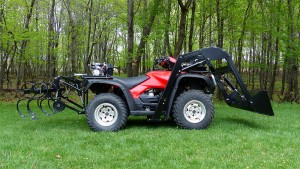 Work smarter with your 4 wheeler when you add Rugged ATV Accessories from Wild Hare Manufacturing, Inc. We make very durable attachments that can make your work get done faster and more efficiently. Along with the fully Hydraulic ATV Front End Loader and Pallet Fork Attachment we have now launched new hydraulic powered quad attachments! Wild Hare Manufacturing, Inc. Check out the new hardworking Pallet Forks, Rear 3 Point Hitch, 3 Point Cultivator and Rear Disc Harrow. Each are designed for maximum performance and ease of use.
Hydraulic ATV Front End Loader
Wild Hare's Front End Loader, previously called The Groundhog, is one incredible and versatile dump bucket for your ATV. Unlike other attachments that use a winch system, our ATV Front End Loader is engineered to be fully Hydraulic for maximum lifting and lowering power. With the included suspension locks the the bucket can lift up to 500 lbs. to a maximum height of 5 ft. Try doing that with a winch bucket. Our customers are finding more uses for this powerful quad attachment each day on the farm, at the cabin and on the work-site.
Pallet Fork Attachment
A Pallet Fork Attachment will come in handy for many types of applications. We designed our pallet forks to work seamlessly with our popular Hydraulic Front-End Loader. You can easily lift boxes, hay bales, pallets, cargo and logs. It is brilliantly designed for easy installation and removal.
Rear 3 Point Hitch
This heavy-duty ATV Hitch Attachment may revolutionize the way you perform your work. The convenient, hydraulic powered hitch design ensures secure and easy attachment. It is bolted to the back rack of your quad and enables you to utilize our other implements, such as the Rear Cultivator and Disc Harrows.
Rear 3 Point Cultivator
Consider how much easier tilling the garden can become with a Rear 3-Point Cultivator that attaches to your ATV. You will be able to aerate the soil and weed without the back pain of weeding by hand. And when it's time to head on in just lift the rocker switch to raise the cultivator off the ground and cruise back to the garage and detach the implement within less than a minute.
Rear 3 Point Disc Harrow
Our new line would not be complete without a Disc Harrow. Attach the discs to the rear 3 point hitch and let your machine do the dirty work for you. The power behind this thing can lift the quad right off it's back tires, weeds don't have a chance.
Wild Hare ATV Implement System
Fully load your quad with high powered hydraulic system and all the tools you need to get your job done – on the ranch, at the cabin, around your resort or any other location."If you do what you love, you'll never work a day in your life." – Marc Anthony. Our products can help make it happen, get a new boost out of your everyday grind and order our hydraulic ATV attachments online today.
Questions? Visit our FAQ of Call Wild Hare Manufacturing, Inc. at 1-218-483-1000 or email us at info@wildharemfg.com.