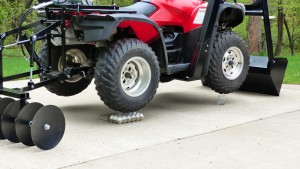 It's time to rev it up and let your engines roll this summer at Wild Hare Manufacturing, Inc. Housing all different types of Quad accessories for your utility ATV, we are here to make your life a whole lot easier! We produce only the most resilient and quality ATV equipment for those performing certain tasks! Wild Hare Manufacturing, Inc. is a company that loves its products! We are so confident in our quad accessories that we offer a full-year warranty for every original purchaser!
ATV Front End Loader
This hydraulic front loader is easy to install and mount. Once it's mounted, connecting and disconnecting it from the ATV only takes a matter of minutes! This carefully designed product has suspension locks and can hold and lift up to 500 lbs! It can elevate up to 5 feet off the ground and can fit almost any model of ATVs you may have.
ATV Front End Forks
Make transporting supplies or merchandise easier for you! Our forklift attachment has a lifting capacity that is unreal! Carrying a 500 lbs box is a lot easier with this fork lift than it is with 2 men! It has one set of rocker switches and powerful hydraulics, as well as tilt capabilities that give it added control and improved efficiency.
ATV Rear Mounted 3 Point Hitch
This rear attachment is also powered by the same hydraulic system. Once attached to the back, our hydraulics system has the ability to divert hydraulic fluid from the front bucket to the 3 Point Hitch in the back! This means you get power and quality on both ends of the ATV!
ATV Rear Mount Cultivator
You are working so hard you might as well be eating dirt! Stop that! Hitch up our cultivator attachment and all you have to do is go! Stop wasting countless hours tilling, chopping, and digging, this attachment can do it all.
Hydraulic ATV Disc Harrow Attachment
This quad attachment is perfect for aerating, breaking up dirt clumps, cutting weeds, and leveling the area for planting. It can shorten the time it takes to do these many tasks tremendously! Pushing around a tiller can take hours. You can be done with a full days work in just minutes!
While ATVs are known for their fun speeds and trail joy riding experiences, they can be used for so much more! Wild Hare Manufacturing, Inc. strives to make the best quality quad attachments for those looking to do more utility work with their ATVs. While it does not replace a tractor, it can significantly impact the amount of man hours you need on a project outdoors or in the warehouse. For more information or to order your quad attachment today, call us at 1 (218) 483-1000.