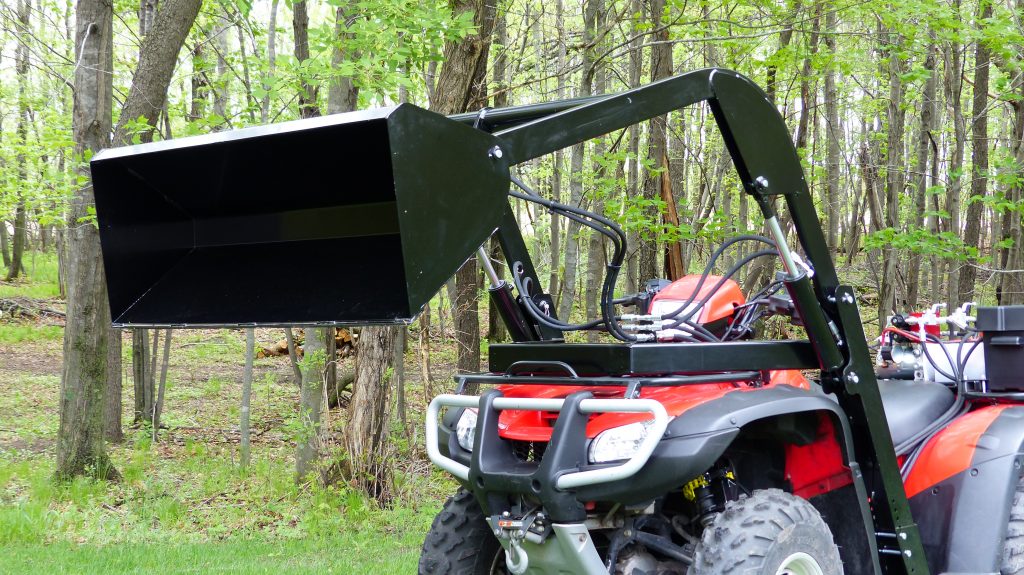 Your ATV is a workhorse. If you use it for recreation, you know how much convenience and fun it adds to the time you spend outdoors. If you use it for both recreation and work, you know how versatile it is. If you are doing work on your property with your ATV, but you have not yet purchased a hydraulic attachment, you may not be taking full advantage of your amazingly versatile machine. Wild Hare Manufacturing offers Polaris ATV Hydraulic Attachments, which can help you get even more out of your ATV.
Types of ATV Hydraulic Attachments For Polaris
The Polaris brand of hydraulic attachments is known for its rugged durability. Every attachment is engineered with precision and delivers great efficiency. These attachments are lightweight and incredibly strong. The Polaris hydraulic attachments that we sell include:
● Polaris Front-End Loader. The bucket of this front-end loader allows you to move a huge amount of material with minimal effort. The weight that you lift with this attachment is compensated for by suspension locks that support the weight you place in the bucket. The suspension locks prevent undue compression of your ATV's front springs, which provides relief for ATV owners. The front-end loader is controlled by a rocker switch that makes operation simple and easy.
● Front-End Pallet Forks. If you frequently have a need to lift large items like a pallet or hay bales, the front-end pallet fork attachment would be an excellent choice. Installation is simple and requires very little time. The rocker switch controls allow for the same versatility as the front-end loader, allowing you to lift up to five hundred pounds with ease, and giving you the ability to tilt and lower the load safely.
● Rear 3-Point Cultivator. If you have installed the Wild Hare hydraulic 3-point Category "0" Hitch, you can attach the Rear 3-Point Cultivator and begin preparing your property for planting. This cultivator takes nearly all the effort out of cultivating your soil.
● Rear 3-Point Disc. As is true with all of our hydraulic attachments, changing from one attachment to another is quick and easy when our hydraulic 3-Point Category "O" Hitch is attached to your ATV. The Rear 3-Point Disc allows for easy soil aeration and leveling. If you have attempted this work by hand, you know that it is a real backbreaker. But this Polaris attachment makes the work a breeze.
Improve Functionality of your ATV
Our products are built for strength, ease of use, and to not break the bank. If you have any questions, call Wild Hare Manufacturing, Inc. at (218) 483-1000.