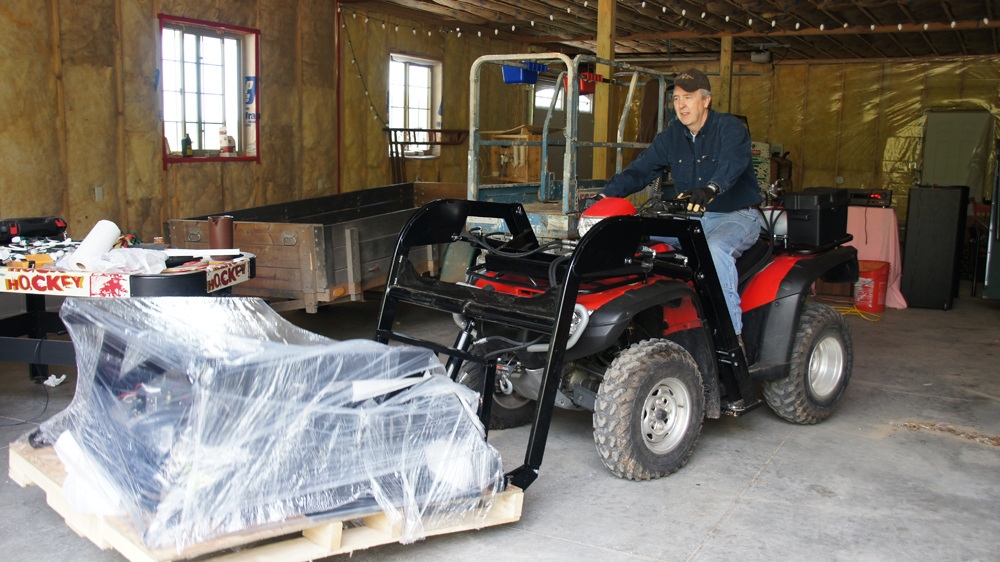 One of the most useful things you can do to your ATV that you love to use for play is to add attachments that allow the ATV to function in many different ways. Rather than investing in an expensive and large tractor for property maintenance, you can add front and/or rear attachments to your ATV to complete the long list of things you have wanted to do around your property. Wild Hare Manufacturing Inc. brings this unique technology directly to you with our ATV attachments.
The Maintenance/Landscaper Package features:
A Loader with 44″ Bucket, 34″ Pallet Forks, Rear Category "0" 3 Point Hitch, 48″ Cultivator, Suspension Locks, Hydraulics, Controls, Mounting Hardware and Auxiliary Hydraulics Kit
This package is specially priced at $5249 (plus shipping). If purchased separately you'll pay much more – $5827 (plus shipping).
Battery and Hydraulic Fluid not included
The possibilities are endless for what you can do with the maintenance/landscape package. The cultivator, just one of the amazing pieces of the package, can be attached easily and you can take care of all of the tilling, chopping and digging at once on your entire property, without any lifting, dragging or pushing. You may not even break a sweat! The cultivator is ideal for food plots, weeding, landscaping, large gardens and tree rows. With 6 depth settings, the cultivator can also be raised and lowered hydraulically by the front rocker switch, which translates into less work for you. The control you have with this attachment is simply unmatched.
The Power Of ATV Attachments
Wild Hare Manufacturing Inc.'s ATV attachments puts the power of hydraulics behind you and your work. The implement system can lift or push into the ground with 500 pounds of force and the attachments are extremely easy to install and fit most ATVs currently on the market. Compared to the price of a tractor, these attachments and implements are extremely affordable and allow you to transform a piece of equipment you already own into much, much more.
All of these attachments can be purchased together as a package or individually if you prefer. It is a great time of year to buy and put them to immediate use on your property. You will not believe how much of a difference the Maintenance/Landscaper Package will make for you and your property. You will get much more done in less time and be able to focus on relaxing as opposed to worrying over your growing to-do list!
Give Wild Hare Manufacturing Inc. a call at 1-218-483-1000 or email info@wildharemfg.com for more information or to place your order!