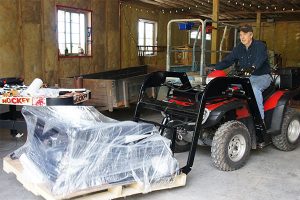 If you are looking to upgrade your ATV with Loader Forks for a Polaris ATV, Wild Hare Manufacturing, Inc. is exactly where you need to look in Minnesota for that upgrade. Loader forks, or pallet forks, are important tools for moving a wide variety of material. When our loader fork attachments are combined with your Polaris ATV, you will find it much easier to complete jobs involving heavy lifting. You will be able to move everything from crates and boxes to logs and rocks.
Our loader forks are ideal for increasing individual and/or company productivity. Tools like Wild Hare's loader forks were once targeted to large companies, but the development of smartly engineered loader forks for ATVs has allowed small businesses to flourish. Increased efficiency gives small businesses a legitimate chance to succeed, and if the work you do requires the moving of heavy objects—whether in landscaping or in moving warehouse products from the floor to trucks for delivery—a tool such as a Wild Hare loader fork is indispensable.
ATV Hydraulic Forklift Attachment
An important aspect of our loader fork system is its hydraulics. Without a reliable and solidly constructed hydraulics system, you might as well go back to lifting heavy items yourself. But a machine like a Polaris ATV that has a loader fork attached to it completely transforms your work experience. You operate the machine and the machine does the hard work.
Our loader fork's hydraulic system is extremely easy to use. You control the loader fork attachment using the connected rocker switch. The whole system becomes a natural extension of the Polaris ATV that you are so familiar with and love so much. Ease of attachment is a familiar characteristic of Wild Hare ATV attachments, and our loader forks are no exception.
Lift up to 500 Pounds with Ease
As is true of our other attachments, the loader fork is very strong and allows you to lift as much as 500 pounds. When attached to your Polaris ATV, it will lift your loads up to five feet in the air. Think about that for a moment – this is superhuman strength. Think of all that you can accomplish with this fork, without hurting your back. If lifting heavy objects and moving them is a part of your daily life, the Wild Hare loader fork is a great investment.
Call Wild Hare Manufacturing Inc. at (218) 483-1000 for more information about our loader forks for your Polaris ATV.