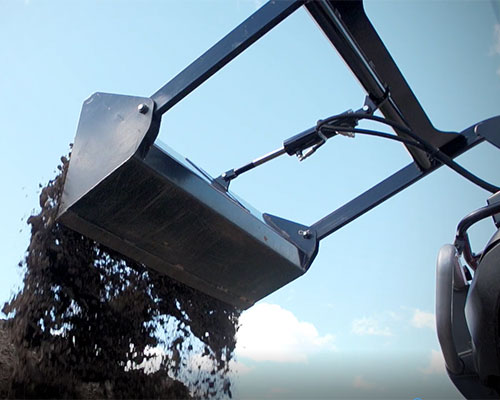 Kawasaki is one of the most highly regarded manufacturers of industrial equipment, and Wild Hare Manufacturing is honored to sell Kawasaki compatible ATV Hydraulic Attachments. The high quality of Kawasaki ATVs allows our Hydraulic Attachments to fit perfectly and makes it easily attachable to our ATV hydraulic attachment adaptor systems.
Types of Kawasaki ATV Hydraulic Attachments
The Wild Hare Hydraulic-powered front-end loader can lift as much as 500 pounds 60 inches (five feet) off the ground. This measurement may differ slightly, depending on your specific ATV, but most ATVs allow for our front-end loader to reach its maximum height off the ground. Maximum clearance allows you to have better visibility of the load you are transporting and knowing that the load is stable as it is being moved will give you peace of mind. The front-end loader is powered by a powerful hydraulic motor and pump. We also offer an option of auxiliary hydraulics that allows for the transfer of hydraulic fluid from the loader tilt in front to the Rear 3-point Category "0" Hitch.
Attaching the Rear 3-Point Category "0" Hitch to your Kawasaki ATV allows you to do the work on your property with a new range of hydraulic attachment tools. With most hydraulic attachments, adding multiple systems compromises the functions of each. But with our hydraulic attachments, you will lose virtually no functionality. The Rear 3-Point hitch can be connected to the same hydraulic system as the Front-end Loader, and the only functionality that is lost when this combination is employed is the bucket-tilt function.
Improve your ATV's Functionality with Hydraulic Attachments
Our hydraulic attachment systems also offer easy switching between multiple attachments. After the initial installation of the adapter system, which takes approximately forty-five minutes, switching between attachments can be accomplished in a matter of minutes. When you are doing the hard work of moving heavy loads and cultivating soil, the prospect of having to interrupt your work in order to change out lesser hydraulic attachments can be dispiriting. But Wild Hare Manufacturing has done away with that problem by producing a hydraulic attachment system that works with multiple hydraulic attachments.
And when your ATV is fitted with our attachment adaptor, you will experience the benefit of excellent engineering and design. The work you might once have had to do with hand tools or, worse, by having to hire an expensive contractor with heavy duty equipment, can now be done using your beloved ATV.
Wild Hare Manufacturing Inc. wants to make every aspect of this kind of work simpler, and that begins with the purchasing of our hydraulic attachments. Call us at (218) 483-1000 to learn more or speak with a member of our team.