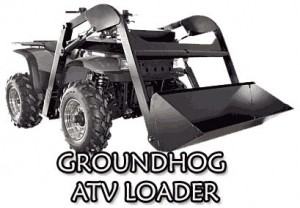 Looking for an inexpensive way to increase the productivity of your workforce? Whether you are a landscaper, farmer, or are consistently hauling heavy items, Wild Hare Manufacturing, Inc. has just a tool designed to help you! Get rid of some of your tedious manual labor by investing in our hydraulic quad bucket attachment for your ATV. Sure, most people use ATV's for fun and adventure, but why not use it as part of your vehicle fleet as well? No sense in going into debt from the purchase of a tractor. Once you try this heavy duty ATV attachment, you will wish you had partnered with Wild Hare Manufacturing, Inc. years ago!
Benefits of a Quad Bucket
Multiple Uses – What is neat about our quad bucket attachment is that you can use this as a tool in a variety of ways. This quad front end loader can withstand up to 500 pounds. Additionally, the bucket has the ability to rise up and down across a 5 foot span, and is very easy to install.
Get Rid of Old Habits – Before this attachment, you may have had multiple workers spending hours at a time hauling heavy materials. Now, you can hand over new projects to your employees as they will have much more time available, by utilizing this attachment.
Long Lasting Product – Thanks to the built in suspension locks and hydraulic lifting, this attachment will be able to withstand wear and tear over many years. No need to spend thousands of dollars on a Bobcat. Instead, get the same hydraulic powered up and down force from our quad bucket at a much more reasonable price.
Quad Attachments with Warranty

There is no sense in purchasing a product that cannot be backed up with a promise. The hydraulic quad bucket and other ATV attachments that we provide our purchasers all come with a 12 month product warranty on the workmanship and materials of the attachment. For optimum usage, make sure that your ATV does not exceed 5 mph when the attachment is on and that your ATV is between 300 and 700 cc's.
So, if you have an ATV that you have been using for fun, now is the time to put it to work! Team up with Wild Hare Manufacturing, Inc. and invest in our hydraulic quad bucket attachment. Boost the efficiency of your workforce with our front end loaders by calling 218-483-1000.