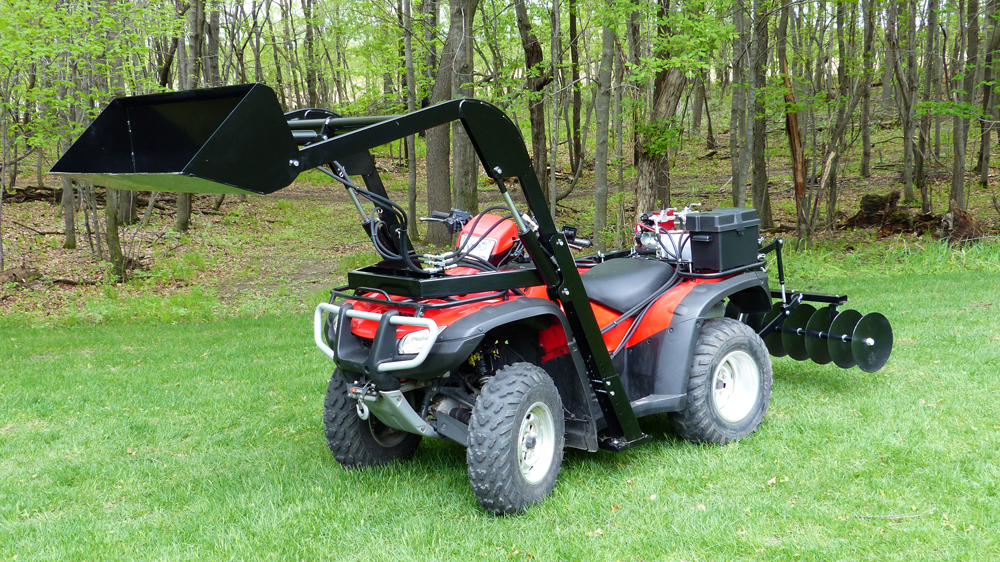 Wild Hare Manufacturing Inc. offers a wide variety of quad accessories that improve function and efficiency and cost less than purchasing a new or even used tractor. Our attachments are high quality and can transform your recreational ATV into a powerful tool that can be used all over your property or wherever you need it. These attachments are fully equipped with hydraulics, suspension locks and a diverse set of implements – they will allow you to get the job done fast and right.
Want to know more? Here is a glimpse of each of our main attachments:
ATV Front End Loader: You will notice the power of our front end loader right away. It will immediately increase your efficiency around your property and gives you the control to lift and lower up to 500 lbs, anytime, anywhere. The full hydraulics are behind the power and they also give you the power to back-blade. The Front End Loader is ideal for hauling heavy loads around your property, transporting large trees, rocks and other materials for a large landscaping project and bringing back kill from a big hunt.
ATV Front End Forks: Forks are ideal for moving all kinds of things including bales of hay, boxes, crates, logs, feed from one place to another. The Wild Hare Pallet Forks allow for easy lifting, lowering and control, giving you the power to do more work in less time!
ATV Rear 3-Point Hitch: In addition to the front end equipment described above, you can also maximize the use of your quad by adding rear mounted attachments like the 3-point hitch. This piece of equipment complements the front end equipment, allowing even more power and ability to move what you need, when you need to.
ATV Rear Mount Cultivator: Our ATV 3 Point Cultivator attachment is designed for use with the Wild Hare 3 Point Hitch and is ideal for tilling, chopping and digging. This implement makes extensive yardwork a breeze and works well in larger gardens, for planting and maintaining tree rows and even weeding.
ATV Rear Mount Disc Harrow: Our rear disc implement attaches to our 3 point category "0" hitch to utilize the robust hydraulic system which provides enough downward force to easily lift the tires of your quad off the ground. It's that simple!
Our team can provide you with much more detailed information and help match your needs up with the best product. Call or email us (1-218-483-1000 or info@wildharemfg.com) with your questions or to place an order!