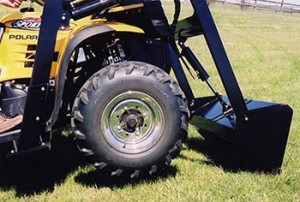 Like most outdoorsmen this time of year, we are gearing up for the greatest season of the year! There's no better time than now to get a little mud on your tires and under your boots! Whether you are riding for fun or working hard in the yard, an ATV is an essential component for every outdoorsman. At Wild Hare Manufacturing, Inc., we offer a four wheeler attachment that is superior to all others out on the market. Our front end loader for ATV is the perfect hydraulic quad attachment to get any job done!
Front End Loader for ATV uses:
Landscaping work
Hauling heavy weights (up to 500 lbs.)
Snow plowing
Cleaning out horse stables
Sportsman uses
Maintaining large properties
Anything else you could possible think of!
Our four wheeler attachment has the capability of transforming your toy into a useful tool around the property! By installing a front end loader for your ATV, you give it the ability to dig, lift, plow, drag, push, and even level! Our hydraulic quad attachment also comes with suspension locks to ensure a job well done. It utilizes full hydraulics and gives both powerful upward and downward pressure. The hydraulic four wheeler bucket can raise up to 5 feet high, lift up to 500 lbs, and fit most any ATV body on the market today.
Ease of Front End Loader Installation
Not only does our hydraulic quad attachment outperform its competitors, we have also made it incredibly easy to install and remove the front end loader for ATV. Since it is made out of steel, it only requires one initial mount installation that typically takes less than an hour to install. The suspension locks that support the added weight and prevent compression are also easy to install and requires no ATV modifications. On average, it takes a total of about 3 minutes to secure different attachments onto the mount. Likewise, removing it is just as easy!
ATV Attachment Product Warranty
We are so confident that you will love each and every four wheeler attachment that we offer a full year warranty to all original purchasers. We are confident that our products are free of defects, but we are always willing to repair or replace defective or faulty parts if they are found.
So, if you are ready to take your ATV to the next level, it's time to order your Groundhog online or give Wild Hare Manufacturing, Inc. a call today at 1 (218) 483-1000.