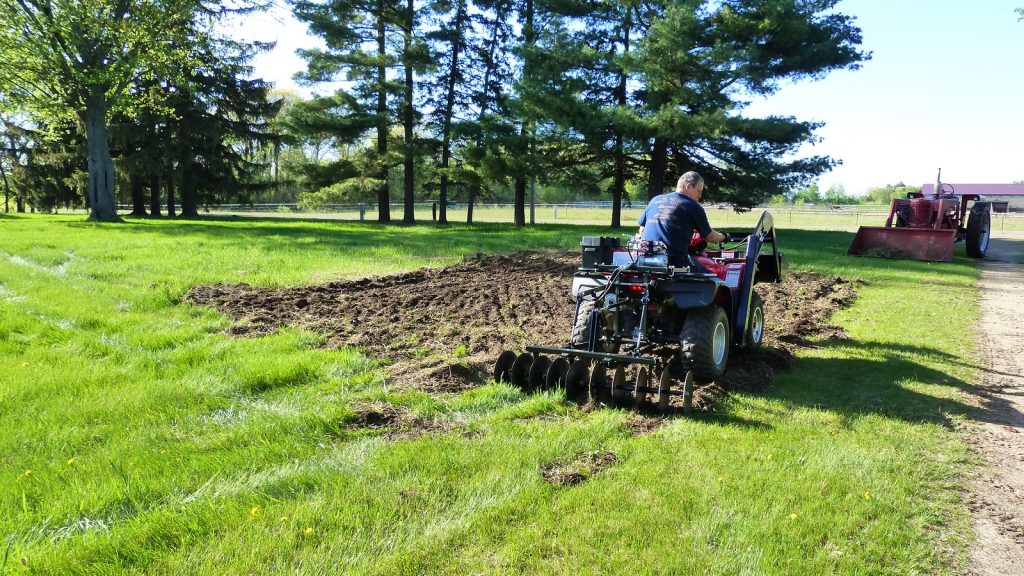 If you have considered expanding your landscaping business to include more extensive lawn preparation, if you have a larger yard that has lots of weeds that you would like to remove, or if you have a desire to create a large garden on your property, Wild Hare Manufacturing, Inc. has the tool for you. These jobs may have been jobs out of your reach because you do not have the physical ability to cover so much ground until now. Our Hydraulic Disc Attachment for ATVs is ideal for these jobs.
Complete Large Jobs on your Property Faster
Our team has created the hydraulic disc attachment for people just like you, who know the value of hard work, who have the ambition to transform the landscape into something beautiful and/or more productive, but who do not have the physical capacity or time to do the job by hand. Our hydraulic disc attachment gives you the capability of doing those extensive jobs without taking away an ounce of satisfaction that comes from doing the job yourself.
Our three-point hitch allows the hydraulic disc attachment to fit any ATV. That kind of versatility is truly uncommon. The disc attachment is made of solid steel, so you can be confident in its strength and toughness. Attaching it to and detaching it from your ATV will be a breeze. And once attached, you will find that its ease of use is made all the easier by its two manually adjustable positions, the fact that it provides upward and downward hydraulic pressure, and by its fifty-four-inch width. You will be able to cover a lot of ground in relatively little time.
Hydraulic Disk Attachment for Your ATV
When attached to your ATV, our disc attachment can help you create level ground and aerate soil in preparation for planting. Your yard will be healthier and in a better position to serve you as you intend it to as a result of the work our hydraulic disc attachment does. Trying to accomplish a comparable amount of work without the use of this kind of hydraulic attachment would be time-consuming and perhaps even dangerous to your health. But our hydraulic ATV disc attachment will build in efficiency to the job without taking anything away from the satisfaction of completing a significant job. The controls are simple and powerful and will help you discover new purposes for your ATV.
If you would like more information about our Hydraulic Disk Attachment for ATVs, call Wild Hare Manufacturing, Inc. at 218-483-1000.