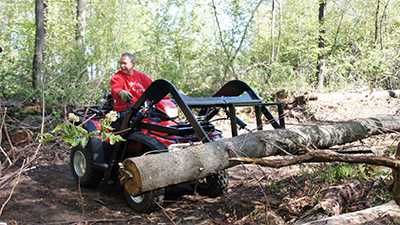 If you're looking for a way to move materials around your land, you've probably looked at all sorts of equipment. You have tons of options including tractors, skid steers and utility vehicles. What most people don't realize is that if you have an ATV you can use it to help you out on your land in a variety of ways. Thanks to Wild Hare Manufacturing Inc. you can purchase a variety of ATV attachments including the hydraulic ATV fork attachment, which offers a variety of uses.
Fork that Moves Much More Than Just Pallets
When you think of an ATV pallet fork attachment you're likely thinking about moving pallets and not much else. The reality is an ATV fork attachment offers a whole host of other functions due to its versatility. Our customers use our fork attachment to move a variety of materials including:
Boxes
Crates
Bales of Hay
Logs
Feed
Lumber
Increase Productivity with ATV Pallet Fork Attachment
If you've ever moved heavy items around your land you understand how taxing this can be on you physically. The problem is that purchasing a full size tractor or other piece of equipment may be more than you need. If you have an ATV, you now have scores of options thanks to Wild Hare Manufacturing Inc. With our hydraulic ATV fork attachment you can increase productivity while also saving your back from the pain of lifting and transporting heavy objects around your land.
Features of the ATV Pallet Fork
Supports loads of up to 500 pounds
Simple, solid design
Lifts load up to 5 feet
Heavy duty construction
Easy to control
Easy installation
Saves time and labor
High Quality ATV Equipment
At Wild Hare Manufacturing we work extremely hard to develop the highest quality ATV attachments that meet the needs of our customers. To achieve this high level of quality takes significant time and effort. Aside from our fork attachment, we also offer a host of other ATV attachments that can help with all types of work on your land. Our top selling attachments aside from our fork attachment include:
ATV Front End Loader
ATV Rear Mount Cultivator
ATV Rear Mount Disc Harrow
ATV Rear 3-Point Hitch
Put Your ATV to Work With Wild Hare Manufacturing
Your ATV may not know what's coming when you purchase ATV attachments from Wild Hare Manufacturing! If you have questions about our easy to use ATV fork attachment or any of our other products, feel free to give us a call at (218) 483-1000 or send an email to info@wildharemfg.com.