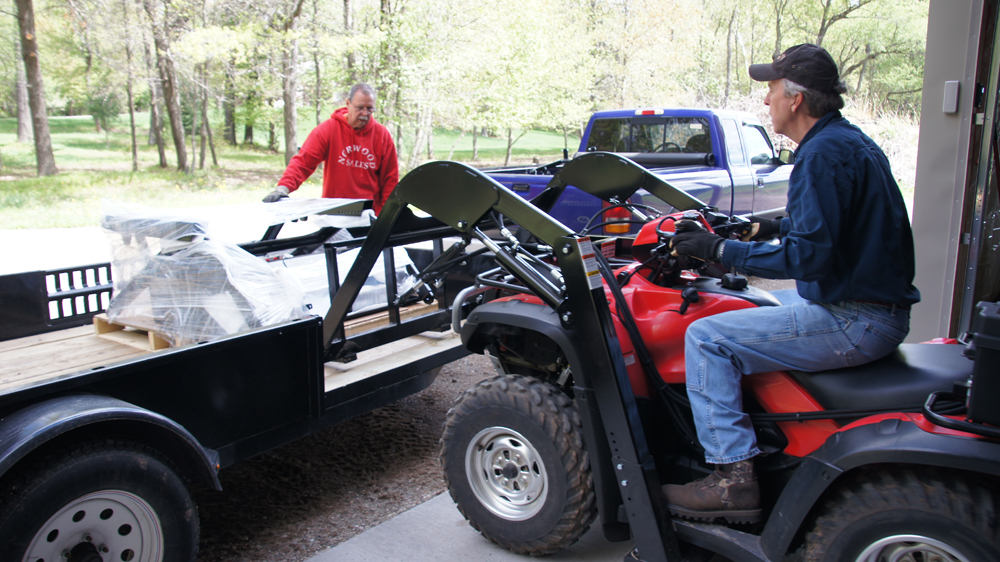 Sick of hearing your employees complain about aching backs and being worn out from all of the heavy lifting they have to do on your land? Not only can this type of work wear down your employees, but it can also become a liability for your company as well. We understand that purchasing a tractor is a massive expense. Well, Wild Hare Manufacturing, Inc. has an affordable alternative for you to reduce the amount of manual labor performed on your land each day. Now is the time to invest in a hydraulic front end loader attachment for your ATV. If you have an ATV just sitting around, make it a part of your work fleet with this reliable attachment that is built to make those difficult jobs for you or your employees much easier.
Front End Loader Features
By investing in a front end loader for your ATV, your workday will be more efficient and those tasks that used to be taxing on your employees will now be a breeze. Some unique features that our hydraulic front end loader attachment brings to the table include:
Lifts up to 5 Feet – Do you have mulch or heavy items in your truck bed that you need to remove? No problem as this front end loader can rise over 5ft high, making this task a simple one.
300 Pound Limit – This front end loader can handle a lift capacity of 500 lbs. Keeping that much weight off your employees backs can help keep them around much longer!
Custom Suspension – In order for the front end loader to properly function with heavy weight, our team at Wild Hare Manufacturing, Inc. designed custom made suspension locks that are built to last.
Middle Frame Mount – By using a middle frame mount, your ATV is able to stay balanced and in alignment while using the front end loader.
Easy Installation – The original installation on your ATV takes approximately 45-60 minutes. Once it has been installed, it only takes about 5 minutes to reconnect and disconnect the attachment to your ATV.
Diverse Models – When developing this front end loader, we made sure that it could fit a wide range of ATV's. This attachment is able to fit Honda, Kawasaki, Polaris, Suzuki, Yamaha, Bombardier and the Arctic Cat (2004 models and older).
Throw away the brochure about a tractor that you can't afford, and pull that unused ATV out of your garage. Team up with Wild Hare Manufacturing, Inc. and invest in a hydraulic front end loader attachment for your ATV that will not only make your business more efficient, but it will help keep a smile on your employee's faces as well! Give us a call today at (218) 483-1000 to learn more about this dynamic front end loader.