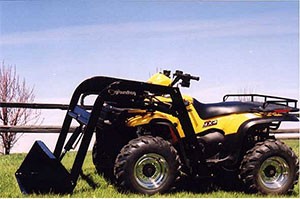 Stall cleaning is vitally important because stalls house many individuals most prized possession, their horses! If not properly cleaned, the stall can become a health hazard for the thoroughbred residing in the dirty area. Realistically, a stall should be cleaned every day. That can either be very expensive if you hire an outside provider to clean the stall, or it can take a lot of man hours, reducing your productivity. Well, Wild Hare Manufacturing, Inc. has just what you need! Now is the time to invest in our hydraulic ATV attachments that are great with stall cleaning! Get rid of that shovel and back pain and boost your productivity with our handy hydraulic powered ATV attachments.
Stall Cleaning Help
The first step of any stall cleaning job is to remove the manure. With the amount of manure these animals give off on a daily basis, a handheld shovel simply is not enough. Thankfully, our attachment tightly maneuvers corners and can quickly pick up manure. Once the manure is picked up, you can then use our ATV attachment to transport hay into the stall, giving your horse a fresh new layer of straw. No longer will you carry tools and have to stack up piles of hay in a wheelbarrow. Instead, place the hay onto the hydraulic attachment, and the hard part of the job is taken care of!
Available Attachments
Front End Loader

– One great benefit about our front end loader attachment is how much it can improve the efficiency of the job. By investing in this attachment, the amount of time you spend stall cleaning is sure to decrease significantly. This easy to install and remove item does especially great with retrieving manure from horse stalls.

Pallet Forks

– Replacing the hay in the stalls on a daily basis can become very time consuming. Thanks to our pallet fork attachment, you can easily transport hay to and from the stall. With the ability to hold up to 500 pounds, the hay transport process will be much easier going forward.
Horse Stable Cleaning Made Easier
Experience a whole new world of stall cleaning by investing in Wild Hare Manufacturing, Inc's. hydraulic ATV attachments. Soon, you will be able to spend more quality time with your horse thanks to the new abilities and efficiencies that our attachments bring to stall cleaning. Give us a call today at 218-483-1000 to learn more about these long lasting attachments.