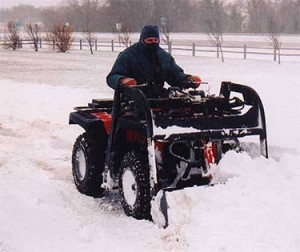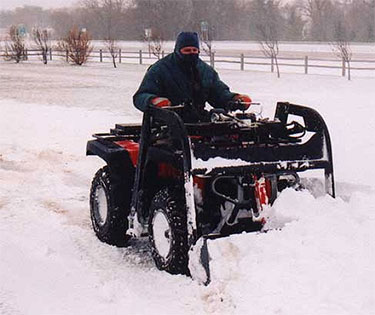 Looking for ways to make your ATV more productive? Sure, ATV's are fun to play with on the weekends, but why not put this heavy duty machine to work during the week! Take advantage of the power and force that your all terrain vehicle provides and invest in a hydraulic attachment for plowing. If you live in an area with lots of snow, this attachment is sure to make your life a whole lot easier in the future. Team up with Wild Hare Manufacturing, Inc. today by investing in an ATV front end loader.
Benefits of the Plowing Attachment
Less Manual Labor – Say goodbye to the days when you had to pull out a shovel to get rid of the mess left by a snowstorm. Now, you can enjoy a seat on your ATV while you plow with this ATV attachment.
Powerful – Thanks to this attachment, your ATV will be able to lift over 500 lbs. Just imagine how long that would take a human to maneuver when dealing with compacted snow. Winch or pulleys are not used, yet our plowing attachment has ample strength.
Mobility – What makes this attachment even better is that the attachment can be lifted over 5 ft. high (can be lifted into a truck bed). Additionally, the ATV attachment utilizes a center mount (for better weight distribution).
Productivity – Thanks to our hydraulic ATV plowing attachment, your snow removal projects will be completed drastically quicker than they were without this attachment. This means that you can spend your time more productively since your plowing attachment will handle the cleanup with ease.
ATV Recommended Models
Research has found that our ATV attachment for plowing works best with the following ATV manufacturers:
Honda
Kawasaki
Polaris
Suzuki
Yamaha
Bombardier
Arctic Cat (models 2004 and older)
Warranty Options
We understand that investing in a hydraulic ATV attachment for plowing is a big purchase. What we can ensure you is that it is no where close to the cost of having to purchase a tractor to handle your plowing. Our team offers a 12 month product warranty that covers the workmanship and materials of the ATV attachment from the date that the purchase is delivered.
Be proactive this spring by investing in an ATV attachment that will make your next winter season much more easy. Team up with Wild Hare Manufacturing, Inc. today and invest in our plowing attachment for your ATV. Order online or give us a call today at (218) 483-1000 to learn more about our product.