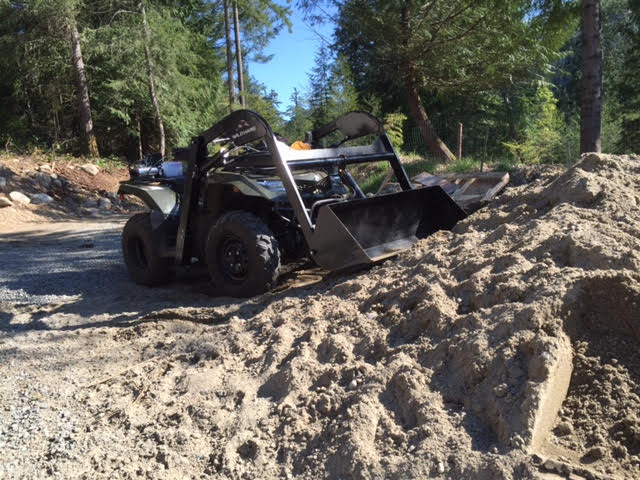 Do you have a Honda ATV that you'd like to make the most of? At Wild Hare Manufacturing, Inc., we are proud to offer Honda ATV hydraulic attachments that increase the value and functionality of your current ATV. That's right, no need to go out and buy a new tractor or even a new ATV. With the right attachments, your current Honda ATV can become a vital tool for both recreation and work.
Choosing Your Attachments
At Wild Hare Manufacturing, Inc., we take pride in being a company that provides a way for land or business owners to still get their work done easily even when a tractor is out of their budget or they have no room to store heavier equipment. By utilizing our simple attachments, owners are saving time, money and space.
The Honda ATV Front-End Loader – This attachment can lift up to 60" off of the ground and hold up to 500lbs. It is powered by a hydraulic motor and pump to smoothly get the job done. Whether you are lifting and moving dirt or digging a new plot of land, this ATV attachment is a crucial tool.
The Front-End Pallet Forks – Our front-end pallet forks are designed to lift all of those heavy boxes, fence post, wood piles and cargo elements. Don't think your Honda ATV can handle that? With our hydraulics system, this bad boy can lift and lower 500lbs with ease and even has tilt options for the most fragile of items.
The Rear 3 Point Cultivator – Our cultivator attachment ensures that you utilize every aspect of your ATV. This cultivator is fantastic for weeding, tilling, creating food plots and doing lots of projects and work around large gardens and fields. That's right! No more back aches from doing it yourself!
The Rear 3 Point Disc – This is another rear attachment that takes it a step further. It will bust up sod, aerate the soil and pulverize all the dirt chunks your heart desires.
All of these attachments are extremely easy to remove and apply as you work throughout the day. All you need is the right base.
Implementing an Attachment
In order to utilize all of Wild Hare Manufacturing, Inc.'s attachments, you must first attach the mounting plate. The mounting plate fits all Honda ATVs, even Touring models with some slight modifications. The mounting plate only needs to be attached one time and will typically take customers anywhere from 45-60 minutes to completely attach. Once the mounting plate is in place, other attachments can easily be connected or removed in approximately 2 minutes. The same can be said for our Rear 3 Point Category "0" Hitch for the back of the ATV. This modular rear attachment system allows for rear attachments like the Rear 3 Point Cultivator and Rear 3 Point Disc.
For more information about Honda ATV hydraulic attachments, give Wild Hare Manufacturing, Inc., a call today at 1(218)483-1000 or send us an email at info@wildharemfg.com.