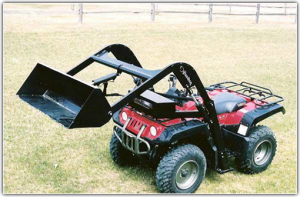 Want to increase your productivity and have fun doing it? Check out the First in it's class, Groundhog Hydraulic Front-End Loader from Wild Hare Manufacturing, Inc. The Groundhog utilizes fully hydraulic power to give you the power you need for the most demanding applications. It easily attaches to your Honda ATV after just a one time initial set up. This Front-End Loader is easily the most versatile Honda ATV Accessory that you will ever own. Our clients are discovering more innovative uses every day. You can lift up to 500 lbs. with ease using this powerful Honda quad attachment. When you have finished with all of the heavy lifting, simply detach the unit in minutes and you are free to play.
Versatile Honda ATV Accessory
Are you tired of breaking your back while completing chores such as snow removal or hauling hay bales around? These are just a couple of the jobs made simple with the help of a Honda ATV and Versatile Honda ATV Accessory. The durable and powerful Groundhog Front-end Loader utilizes Hydraulic power, unlike the other guys that use a winch. The results of our middle mounted hydraulic bucket include a better center of gravity which can make all the difference in most every application for the Wild Hare Manufacturing, Inc. products.
Uses For Honda Quad Attachment
After using a Groundhog Honda Quad Attachment for just a short time, you may find that your creative juices are flowing in finding more ways to utilize this powerful dump bucket attachment. More and more customers are discovering that their Honda ATV is now the go-to machine for all types of applications.
Landscapers will appreciate the way the Groundhog can easily haul sod, gravel, mulch, tree stumps and more.
Farmers and Horse Stables will discover how easy it is to lift and transport hay bales and clean messy stalls.
Snow Plowing is made easy and much more enjoyable with the power and mobility of this Honda ATV accessory.
Sportsmen can carry a deer or other large game just about anywhere using hydraulic power that can lift 500 pounds up to 5 feet in the air.
Resort and Cabin owners can check off the to-do list much faster when they can lift, haul, scrape and push whatever needs to be done.
First In Class Front-End Loader
Wild Hare Manufacturing, Inc. is proud to bring you the highly versatile Groundhog Front-End Loader. This easy to use Honda Quad Attachment provides almost endless applications so that you can increase productivity and get on with enjoying your Honda ATV. The fully hydraulic system makes this Honda ATV accessory the best investment in getting the job done!
Call Wild Hare Manufacturing, Inc. at 1-218-483-1000 or email us at info@wildharemfg.com. We would Love to hear from You!