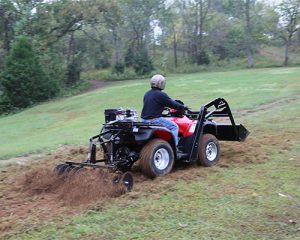 At Wild Hare Manufacturing, we offer a wide range of ATV accessories geared towards turning your quad into a real work horse on your property! Sure, it's fun to ride through trails and get muddy in your ATV, but why not use your ATV to help you on your land? At Wild Hare Manufacturing we've created a number of ATV accessories that will help you to be more productive around your property.
If you're looking to use your ATV to help get some word done around your property, feel free to learn more about our large number of ATV accessories detailed below:
Heavy Duty ATV Accessories
• Hydraulic Powered Front-End Loader Attachment – Convert your ATV into a high powered earth mover thanks to the Wild Hare Front End Loader. The hydraulics allow you to lift up to 500 pounds and a simple rocker switch helps to control both the loader arm and bucket.
• Hydraulic Powered Pallet Forks Attachment – One of our newest products is our hydraulic powered pallet forks attachment which is made specifically for our Front-End Loader. Easily lift hay bales, pallets, fence posts, cargo and much more with ease thanks to the same 500 lb. lift and lower capacities of our Front-End Loader attachment.
• Rear 3 Point Category "0" Hitch – Using our Rear 3 Point Category "0" Hitch opens up a whole new world of possibilities for your ATV. Our 3 point hitch offers easy to use hydraulic controls to lift and lower one of our other rear mounted Wild Hare ATV implements.
• Hydraulic Powered Cultivator Attachment – With our cultivator attachment you'll be able to till, weed, prepare food plots, large gardens and much more. Save time thanks to this handy rear mounted ATV accessory.
• Hydraulic Powered Disc / Harrow Attachment – Smooth out rough terrain, aerate soil and pulverize dirt thanks to this versatile Hydraulic Powered Rear Disc Implement from Wild Hare Manufacturing. As is the case with all our ATV accessories, you'll be able to quickly change between the Rear Disc and Cultivator attachments thanks to our versatile 3 point hitch system.
ATV Implement Accessories
If any of the ATV accessories above have piqued your interest, don't hesitate to reach out to our team today by phone at 218-483-1000. We'll be happy to go into further detail regarding any of our ATV implements to ensure you fully understand the power of these products. We look forward to helping you finally see the full potential of your ATV!