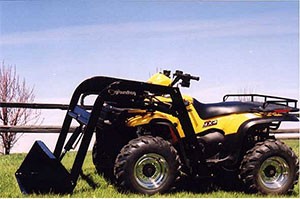 Landscaping professionals have to maneuver heavy items nearly every day. Mulch, seed, grass, plants, excess snow, and bails of hay are common materials that can take multiple workers to move from one place to another. If you are like most landscape managers, trying to expand your productivity while lowering your costs at the same time is a high priority. Well, if you have an ATV as part of your landscaping fleet, Wild Hare Manufacturing, Inc. has just what you need to help with these heavy materials: a heavy duty Hydraulic Powered Front-End Loader. Now is the time to partner with our team and invest in a front end loader for your ATV that will do wonders for your landscaping company.
Why Invest in a Front End Loader?
Power – First and foremost, this durable quad attachment can withstand up to 500 pounds. That takes care of nearly any landscaping material that you are dealing with during the year.
Boost in Efficiency – For projects that use to take 2 or 3 men, now it will only take one man. Additionally, the material will be moved much more quickly than it would if you were using a wheelbarrow. This piece of equipment can also be used to dig, haul, level or even back drag.
Ability to Handle New Projects – Once you invest in the front end loader, you can take on new projects that you may not have been able to complete in the past. For instance, clearing out a parking lot full of snow can be an achievable task with your ATV front end loader attachment.
Raising Items – Moving heavy items left and right is not the only thing this attachment can do. Additionally, this tool can raise materials up to 5 feet high. The use of this front end loader is ever evolving, and its limits are endless!
About Wild Hare Manufacturing, Inc.
It is important to trust the company that manufactures any of your landscaping equipment. With Wild Hare Manufacturing, Inc., you will be dealing with a team of professionals that strive to produce the highest quality ATV front end loader equipment on the market. Thanks to our 1 year warranty on this product, you can invest in confidence today!
So, if you are a landscaping professional looking to gain a competitive advantage against your competition, Wild Hare Manufacturing, Inc. has the answer. Don't wait any longer to invest in our ATV front end loader to help make your landscaping crew much more efficient. Give us a call today at 1-218-483-1000 to learn more about this product.