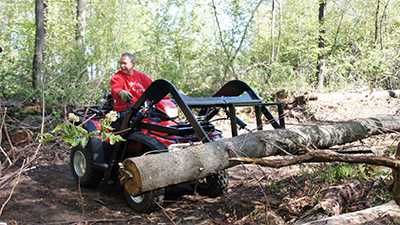 It is time to put your ATV to work! Sure, an ATV brings joy and excitement to your family, but you are only touching the surface of the value that it can bring to your land. Not everyone can afford to purchase a tractor to help manage their property. By using your ATV and investing in one of the front end ATV attachments from Wild Hare Manufacturing, Inc., you will be able to accomplish a lot of the same tasks that you do with a tractor, at a much cheaper price! These hydraulic powered ATV attachments will help minimize your manual labor while increasing your productivity at the same time.
Front End Attachment Options
Front End Loader – There is no reason why you should be lifting heavy materials everyday. Utilize your strength in other areas of work and let our ATV front end loader handle the rest. This easy to use front end attachment can lift and lower up to 500 lbs of weight. Whether you are trying to get rid of snow or you are laying mulch, this attachment can do the work for you. What is great is that this loader can rise up to 5 feet, allowing you to grab items right off of the truck bed.
Front Pallet Fork – Clearing out debris from your land? Moving pallets or feed across your farm? Take advantage of our ATV front pallet fork attachment without having to purchase a tractor. This versatile tool can keep your back pain at a minimum and can easily turn a full days work into a half day.
Backed With A Warranty
We understand that for some people, trying a new product that they have never used may make them nervous. Our easy to use, rugged, front ATV attachments come with a one year warranty to the original purchaser of our product. Register your attachment and let us know if any issues arise with our product. Customer service is a high priority for our team, and your happiness is what matters to us most!
So dust off the ATV that has been sitting in your garage for years. Utilize this vehicle as a tool on your property by investing in a hydraulic front end attachment from Wild Hare Manufacturing, Inc. Give us a call today at 218-483-1000 to learn more about our front end loader and front pallet fork attachments for your ATV.