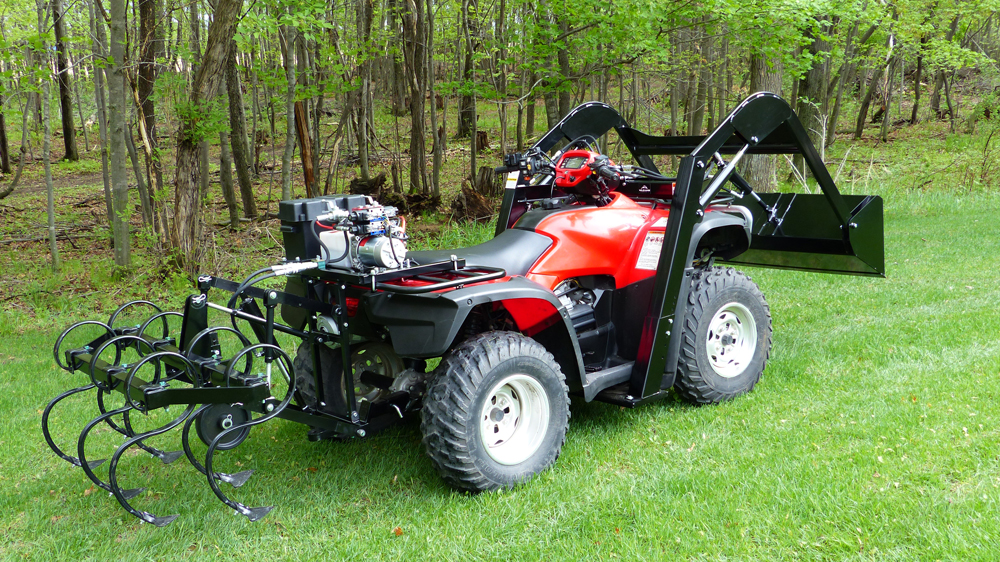 Today's ATVs are built tough enough to take on some heavy duty jobs around the workplace, cabin, farm or home. All you need is the right Heavy Duty ATV Equipment that attaches to the front or rear of your vehicle. Wild Hare Manufacturing, Inc. is an innovative company that believes in our impressive lineup of Hydraulic Powered ATV Attachments. Customers who have tried our products have become our biggest asset in spreading the word on how implements like a Front End Loader, Front End Pallet Fork, Snow Blade, Rear 3 Point Hitch, Cultivator or Disc Harrow have made their lives easier.
Heavy Duty ATV Equipment
Equipment is only as good as the time that it lasts. Cheap, flimsy ATV attachments are designed to disappoint. The Heavy Duty ATV Equipment made by Wild Hare Manufacturing, Inc. is very durable and built to last. Our design engineers are always hard at work looking for ways to improve upon our line-up of Hydraulic All-Terrain Vehicle Attachments by adding in-demand features, package deals and more accessories.
Hydraulic Powered ATV Attachments
Hydraulic Power is the key to better strength and maneuverability incorporated in the attachments made for both Front and Rear applications. With the help of a fully hydraulic, Industry Leading ATV System, owners can complete work and get on with playtime much faster than before. Look at the implements that Wild Hare Manufacturing, Inc. is currently offering our customers:
Hydraulic ATV Front End Loader is powerful and can be attached and removed quickly. This workhorse is able to hold and elevate 500 lbs. up to 5 feet off the ground. Smart features like suspension locks and rocker switch controls get the job done perfectly.
Hydraulic ATV 34" Front End Pallet Forks are convenient in so many ways. Hydraulic lifting and lowering increases the power and versatility of this ATV attachment. Pallets, hay bales, logs and more are no match for forks that can lift up to 500 pounds and hold it 60 inches in the air.
Hydraulic 57" Snow Blade Attachment makes snow removal less of a chore. The double hydraulic system with 4 way power operation enables the user to plow, push, pile and pack snow to the left, right or straight ahead.
Hydraulic Rear Mount ATV 3 Point Hitch is available as a stand alone or add on option. It attaches to the rear end of your ATV and is used to raise and lower implements. The stand alone 3 Point Hitch comes complete with hydraulics, mounting hardware and switch assembly. The add on 3 Point Hitch is made to work with the existing hydraulics from the front end loader.
Hydraulic Rear Mount ATV 48" Cultivator can be easily attached to the Rear 3 Point Hitch. This cultivator has 7 steel tines and shovels and a depth gauge wheel for accuracy.
Hydraulic Rear Mount 57" Disc Plow has 10 steel discs that are great for weeding, tilling, landscaping, food plots and more. It attaches easily to the rear mounted 3 point hydraulic hitch.
Industry Leading ATV Implement System
Wild Hare Manufacturing, Inc. has an innovative, multi-functional line of Industry Leading Hydraulic ATV Attachments. Our products are made very durable and long lasting for use in countless applications. Each Hydraulic Powered ATV Attachment can be used to increase productivity and save you money. Check out our Heavy Duty ATV Equipment and let us know how much you love them too!
Contact Us at Wild Hare Manufacturing, Inc. by calling 1-218-483-1000 or email us at info@wildharemfg.com.