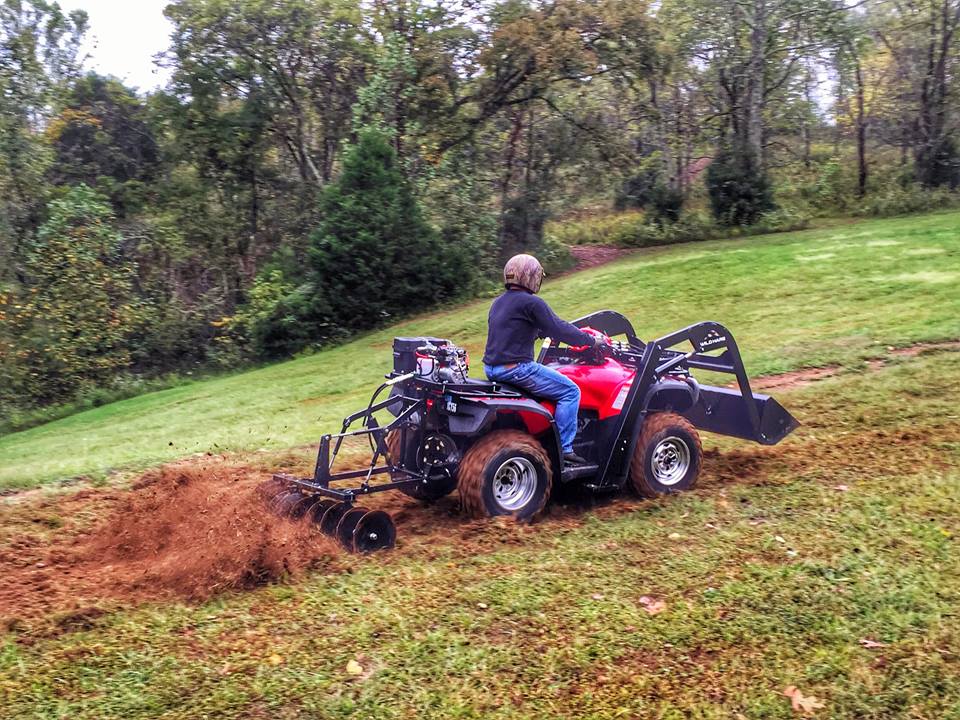 You never know what is going to happen out on the trails! You need to be ready when you head out with Brian Fisher. In first part of episode 1713 of ATV World, Brian takes country singer, Craig Campbell to try out several new ATVs in the beautiful countryside of Tennessee. They spent the day riding, enjoying the terrain, the equipment and talking about life, family, their careers and what they love. Brian revealed that he has been a huge fan of Craig for years!
Transform Your ATV Into A Workhorse
At the end of the episode, Brian checked out Wild Hare's Implement System, which turns your ATV into a real work horse! The Wild Hare Team sent the Implement System from Minnesota all the way down to Brian's Tennessee property to test it out and see what it could really do! The Wild Hare implement system is a hydraulic system that can be attached directly to your ATV, providing you with increased functionality. It can literally transform your ATV into a front end loader, pallet forks, or a cultivator, giving you a tool that can be helpful all over your property. The implement system can really help you fill the gap between doing manual labor with a shovel and wheelbarrow and making a huge investment and commitment with a farm tractor on your property.
If you missed the Episode of Fisher's ATV World that featured Craig Campbell and the Wild Hare Implement System that already aired December 3rd and 5th, don't worry, you can catch the show reairing on:
NBC Sports Network December 24th, 2015 at 4.00 pm (ET)
Destination America December 26th, 2015 at 8:00 am (ET)
Wild Hare's Implement System: Uses Hydraulics For More Mobility And Power
The Wild Hare Hydraulics system is much more advanced than a cable driven system. Gives it much more mobility and can do more than all of the gravity driven equipment. You can lift higher, and actually use the strength of the ATV, instead of just the front of the machine.
Brian Fisher recommends that if you have a 400cc ATV and up and you do not want to purchase a tractor but want some help with all the manual labor you do on your property, the Wild Hare Implement System is a win win. Brian was very impressed with this system and said it was able to do more than he ever expected. You can now do more than have fun with your ATV — you can now use your ATV to get work done!
Contact Wild Hare For More Information
So, if you are looking for ATV attachments that are high quality and some of the best on the market? The Wild Hare Implement System can help you dig, lift, plow, drag, push or level, when you are not out having fun on your ATV. Check out this system, fully equipped with hydraulics, suspension locks and a diverse set of implements. It will help you to get the job done, without the cost of a farm tractor. Call Wild Hare Manufacturing Inc. at 1-218-483-1000 for more information about the Implement System.