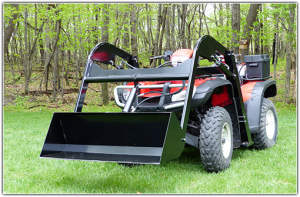 At Wild Hare Manufacturing, Inc. we hear a lot of questions related to our wide range of ATV attachments. While we have a FAQ page on our site, we thought we would highlight a few questions that we receive most often. If your question is not answered below feel free to reach out to us by commenting below, or via phone or email and we're sure that we'll be able to help you out.
Does the Wild Hare ATV Front End Loader fit all ATV's?
We manufactured our ATV front end loader to fit as many ATV's as possible. Currently we're only aware of one exception, which is the newer Arctic Cat models. Arctic Cat changed their bodies in 2005 so if your body is older than 2005 you should be fine. Otherwise our hydraulic front end loader will easily fit Suzuki, Honda, Yamaha, Kawasaki, Polaris and other ATV brands.
What is the Lift Capacity?
The lift capacity of our hydraulic ATV implements is 500 pounds. This is largely due to safety reasons. In our testing we found that weights over 500 pounds could become unsafe because of the weight of the machine. You may think that adding additional weight to the rear of the ATV could prevent any issues with lifting, but this can actually cause your frame to bend.
What is the Recommended amount of CC for an ATV to use the Wild Hare ATV Implement System?
We recommend that your ATV has a minimum of 400cc to run our ATV attachments efficiently without over taxing your quad.
Why Should I Purchase an ATV Front End Loader?
Tractors are big and expensive and can't fit into tight spaces like an ATV.
Tractors often will tear up your land more than a quad.
If you're sick of pushing a heavy wheel barrow around your property.
Allows you to use your ATV for tasks that can save you money and a backache.
What Makes This ATV Attachment Different Than Others?
A full hydraulic system. Other competitors use a winch system where we use a hydraulic pump hooked to a deep cycle battery that is not included. This gives your ATV attachments significant force when moving up or down, unlike a winch that only has power when raising a load.
Still Have Questions?
If you still have questions about any of our ATV attachments, don't hesitate to reach out to Wild Hare Manufacturing, Inc. today at 218-483-1000.