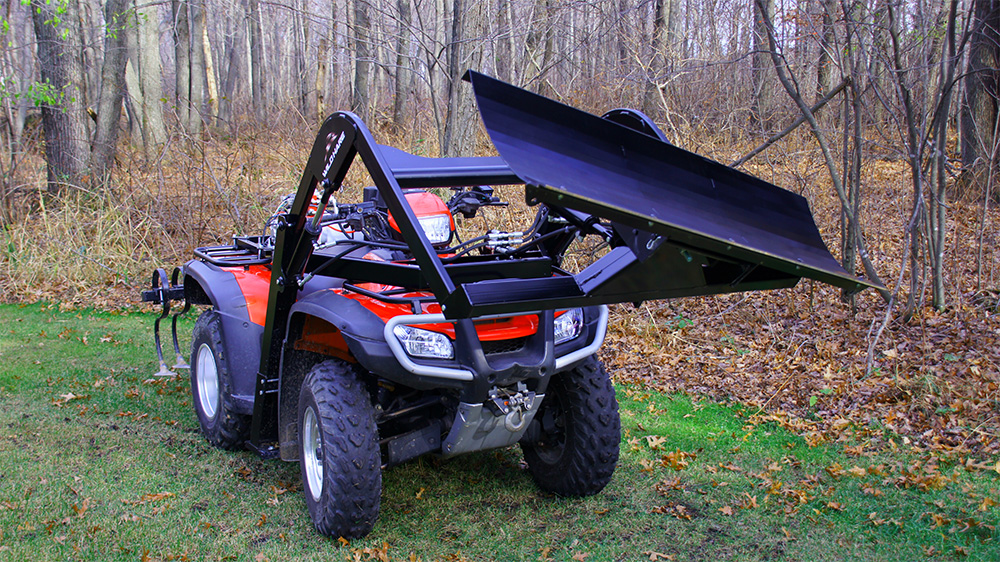 If you live anywhere that snow is a remote possibility, our ATV snowplow attachment is a must. At Wild Hare Manufacturing, Inc., we want our customers to have an affordable and efficient way to clear and remove snow when it's needed most. This ATV attachment allows you to save your money on an expensive snowplow that not only breaks the bank but can take up a large portion of space in your shed or garage. If you have an ATV at home already, why would you need to use anything else?
Attaching the ATV Snow Plow Attachment
If you already have the front mount on your ATV for Wild Hare Manufacturing Inc.'s, other ATV attachments then attaching the snow plow attachments is incredibly easy. You can simply click the snow plow attachment in and remove it in approximately one to two minutes. You will simply remove 3 pins, move the blade into place and then replace the 3 pins. Easy as pie! If you are purchasing a mount for the first time, a one-time, extremely simple video guided instruction for installation will take about 45 minutes.
ATV Snow plow Attachment Uses
Customers rave about this attachment. Truthfully, it is a vital tool when living in a snow state. This attachment can be used to straight push or wing snow to the right or left. The 57" blade width gives you plenty of space to move snow fast and efficiently. The 3 double acting hydraulic cylinders allow for an easy way to raise and lower the blade as well as tilt the blade forward and backwards should you need it. The blade height, tilting, the work of pivoting and rotating the blade right or left, are all done in the comfort of your own seat thanks to our hydraulic technology within the attachment. The blade itself is made from high strength steel and coated with a durable finish. It can be raised up to 5' for high snow piling and if you live in Minnesota, you know that's an extremely nice advantage! The ATV snowplow attachment is an accessory that anyone with an ATV should have.
Ready to learn more about the Wild Hare ATV Implement System or do you specifically have questions about our ATV snowplow attachment specs or pricing? If those links don't help, or for more information, give Wild Hare Manufacturing, Inc., a call today at 1(218) 483-1000 or feel free to send us an email at info@wildharemfg.com.