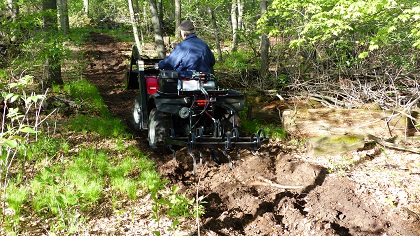 Do you need a little extra help around your land getting things done? While the kids may be a bit of a help, you likely need something or someone that packs a bit more muscle to take care of all of the things on your growing to-do list. Taking care of a large piece of land takes work, especially if you do it as a hobby in your free time. Why not take back some of your free time by utilizing ATV rear attachments and hydraulic powered implements from Wild Hare Manufacturing? You may not realize that the ATV that is just gathering dust in your old barn can be transformed into a workhorse thanks to the different attachments that you can purchase from Wild Hare Manufacturing Inc.
Types of ATV Rear Attachments from Wild Hare Manufacturing Inc.
Wild Hare Manufacturing offers a whole host of rear mounted ATV attachments that can increase your productivity immensely. These attachments include:
Rear Three Point Hitch – We offer a hydraulic powered 3 point hitch that allows you to utilize our other rear ATV attachments. This mount is required to use our rear attachments because it adds the hydraulics necessary to power our attachments.
Rear Cultivator – With our rear cultivator attachment you can finish all of your tilling or chopping chores in record time thanks to the hydraulic system used to power the cultivator tines. Prepare beds for planting or food plots for hunting in minutes rather than hours thanks to this handy and versatile attachment.
Rear Disc Harrow – If you've worked with heavy equipment you likely understand the benefits of a disc harrow. With our hydraulic powered version you can easily get your soil ready for planting without breaking a sweat. Our rear disc harrow is great for weeding, planting food plots as well as tackling many other landscaping tasks.
Find New Uses for Your ATV With Our Attachments
Put your quad to work with our host of rear attachments and implements. Unlock the potential of your ATV with one or more of our rear attachments and you can finally get back to doing more of what you love – relaxing.
If you're interested in our rear attachments, don't hesitate to give our team a call today at (218) 483-1000 or send us an email at info@wildharemfg.com. We'll be happy to show you just how versatile our ATV attachments can be for saving time and money.