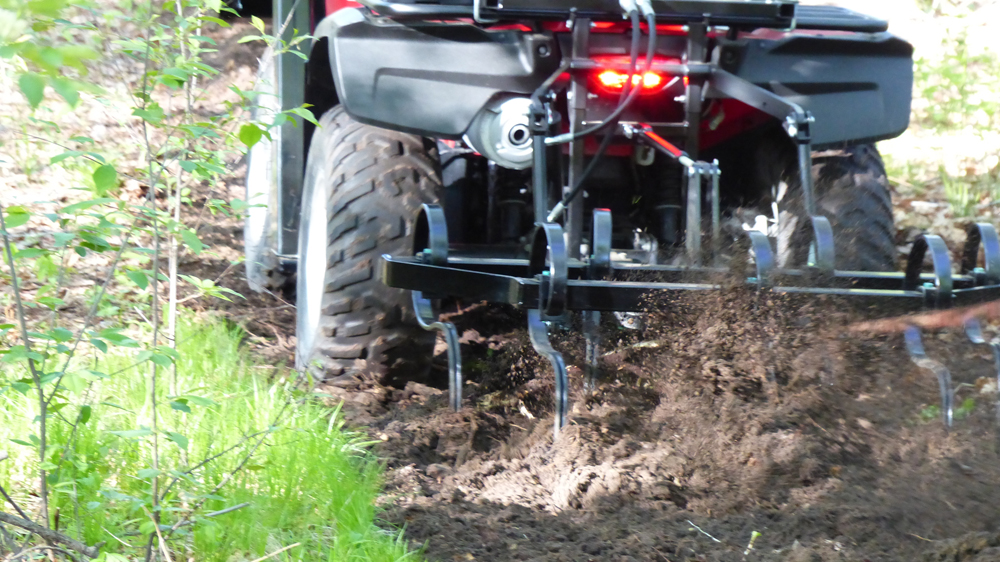 What do you use your ATV for most often? Do you barrel through the woods with friends and family on your land? Do you feel like you're getting your money's worth when it comes to using your ATV? If not, you're in luck thanks to Wild Hare Manufacturing Inc. We offer a series of ATV attachments including the hydraulic powered 3 point hitch that can make light work of most any task on your land. With a variety of attachments that can be used with our ATV 3 point hitch you'll be able to take back some of your free time as opposed to spending so much of it keeping up with things around your property.
But Wait – My ATV Doesn't Have a 3 Point Hitch?
Exactly – that's where Wild Hare Manufacturing comes in to save the day! We've developed a proprietary hydraulic powered 3 point hitch that allows you to use a variety of ATV implements to perform all sorts of tasks that would otherwise be extremely labor intensive. Our system comes in two versions, which we'll discuss below:
Stand Alone Rear 3 Point Hitch – This model is for our customers who don't have any of our other ATV attachments. This model allows you to use all of our rear attachments, but if you decide to purchase any of our implements that attach to the front of your ATV you'll need our ATV Auxiliary Hydraulic Kit to divert the hydraulic oil to both the front and rear attachments.
Add On Rear 3 Point Hitch – If you've already purchased our ATV front end loader, you're well on your way to being able to use our rear 3 point hitch system. This model is specifically designed for customers that already have front attachments from Wild Hare Manufacturing.
Types of Attachments for Rear 3 Point Hitch
We currently offer 2 rear attachments, both of which have become big hits with our customers.
ATV Rear Mount Cultivator – Tired of tilling your garden for spring? Well, with our rear mounted cultivator you can make light work of any garden chore. Stop breaking your back tilling and preparing your land by hand and use our ATV rear mount cultivator.
ATV Rear Mount Disc Harrow – Our disc harrow is another popular item used by many of our customers. If you have a large garden or are preparing food plots or prepping lawns for seeding, our disc harrow will be a perfect addition to your arsenal.
Contact Wild Hare Manufacturing Today
If you're interested in learning more about our ATV rear 3 point hitch or any of our ATV attachments, don't hesitate to give us a call today at (218) 483-1000.