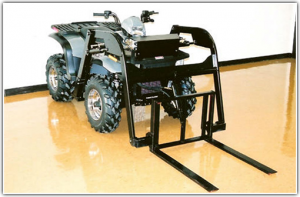 If you have been using the ATV front end loader by Wild Hare Manufacturing, Inc., you know how great of a product it is. What if there was more to just the standard front end loader? Well, you are in luck because Wild Hare Manufacturing, Inc. also offers an ATV pallet fork attachment to your front end loader. This unique attachment can help make your life much easier when maneuvering items from one place to the other. No need to go out and purchase an entirely new tool for your location. Instead, invest in our much more affordable attachments for your ATV.
Common Uses of the Pallet Fork
The pallet fork attachment does great with moving pallets, bales of hay, heavy packages, wood, and many other heavy objects. By investing in this attachment, you will be able to reduce man hours spent moving these heavy items, thus increasing productivity around your facility. You'll never go back once you try our easy to install pallet fork for your ATV front end loader!
Benefits of a Pallet Fork
Ability to Move up to 500 pounds

– An object weighing 500 pounds would take 2 or three men to move. By investing in the pallet fork, one man can easily move a 300 lb. object.

Easy Up and Down Movement

– Not only can the pallet fork lift heavy items, it can also lift items up to 5 feet high.

Elite Control

– Some other tools used to move heavy objects limit the control you have because the item is so heavy. With the pallet fork, the user has total control and can easily change direction with just a simple adjustment.

Long Lasting

– These pallet forks can handle the wear and tear of a hard day's job. You'll be sure to keep this product around your facility for many years to come.
Quality ATV Pallet Fork Attachment

By partnering with our team and investing in the ATV pallet fork attachment, you will get the best customer service and quality products on the market. To help ease your mind when choosing our product, we offer a one year warranty on the pallet fork attachment so that you can rest easy at night.
Take the next step with the lifting equipment around your facility. Team up with Wild Hare Manufacturing, Inc. today and take the plunge by investing in our ATV pallet fork attachment for your front end loader. Soon, you'll be asking yourself why you waited this long to give it a try! Contact us today at 1-218-483-1000.