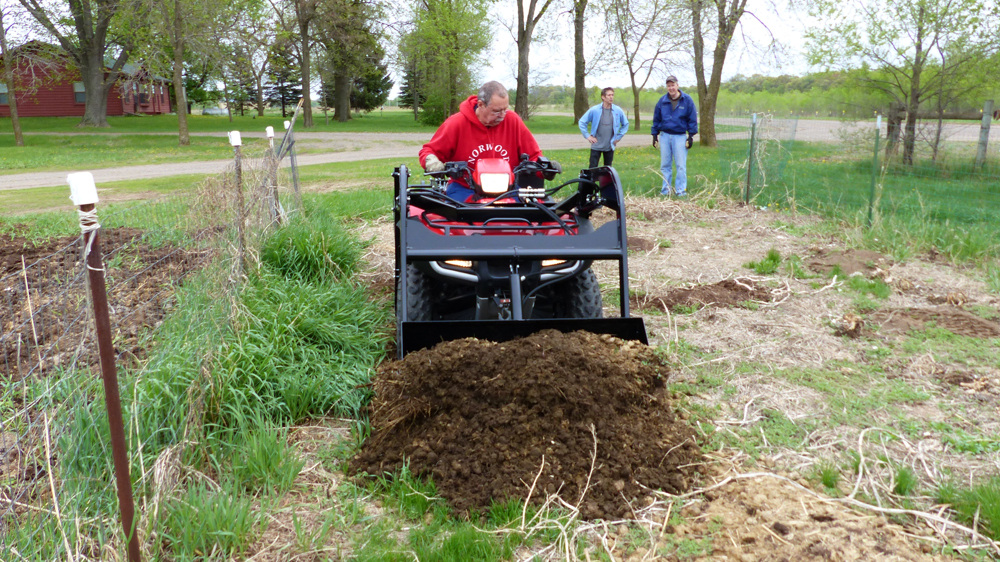 If you're on the fence about purchasing an ATV attachment from Wild Hare Manufacturing, we're here to answer a few of your frequently asked questions. We've compiled a list on our website, but thought it would be good to answer a few through our blog. Should you have a question that isn't covered here or on our website, you can always give us a call or shoot us an email and we'll be happy to respond as quickly as possible.
Does the Wild Hare Front End Loader fit all types of four wheelers?
Our front end loader fits almost all ATVs. The one exception that we're aware of is with newer body style Arctic Cat models. In 2005, Arctic Cat changed their body style so if you have a 2004 or older model, you're likely ok. Otherwise your ATV should have no problem working with our ATV attachments.
How easy is it to steer my ATV with a full bucket?
Using our ATV implements you'll be able to steer surprisingly easy – especially when using the suspension locks. The custom design of our ATV attachments shifts the weight of the loader to the center of the ATV so that your front suspension doesn't have to carry the entire weight of the loader. We've also seen additional handling success when customers added a bit of air to their tires (12 to 14 psi).
Why is the front end loader limited to 500 pounds of lift capacity?
This is simply for safety reasons. We determined that lifting more than 500 pounds could become unsafe based on the weight of your ATV. While you may be tempted to add additional weight to the rear of your ATV to increase your lift capacity this can cause your ATV frame to bend and is not recommended.
Why should I use ATV attachments?
Some areas are too small for tractors and the ATV attachments from Wild Hare Manufacturing allow you to easily maneuver into tight spaces.
If you're growing tired of having to wrestle a heavy wheel barrow.
One ATV can do the work of multiple machines thanks to our quad attachments.
Tractors can be extremely expensive and if you already have an ATV you can have an economical workhouse to help out with tough tasks around your land without spending a ton of money.
Interested in More Information?
If we've piqued your interest in our ATV implements, don't hesitate to contact us by phone at 218-483-1000 or via email at info@wildharemfg.com. We look forward to hearing from you soon.