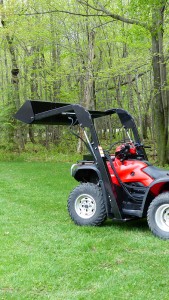 If you are an outdoorsman, there's something about owning an ATV that just screams being a hunter. At Wild Hare Manufacturing, we don't just use ATVs for play, we make attachments for ATVs that will benefit anyone working hard outside, helping them to create whatever animal feed plots they may need. Our ATV hydraulic bucket can help you achieve results fast with easy turn around capabilities and so much more. If you are looking to create an animal feed plot for deer or bear this season, let Wild Hare Manufacturing, Inc. get you there quickly! Managing food plots is not an easy task, but our hydraulic front end loaders sure can help!
Manage Food Plots With your ATV
If you are a dedicated hunter that spends time preparing your land with feed plots, you would probably agree that a lot of your time is spent preparing. Animal feed for deer and bears can be very heavy, requiring a lot of manual labor. With the help of our hydraulic front end loader, that heavy load can be taken off of your plate, allowing you to be productive in other areas. This easy to connect attachment only takes about 5 minutes to connect to your ATV after the initial install. The front end loader raises up to 5 feet high, which works well with transporting feed to and from your truck bed. All we ask is that you make sure your ATV has a 300-700 CC engine. Additionally, the ATV cultivating process allows you to easily till up the area that you have designated as your feed plot. The ultimate goal is to lessen the amount of manual labor needed so that you can focus on more play and less work!
Affordable Tractor Alternative
Sure, if you have the money to afford one, tractors are great. In reality, not many of us can afford a tractor, or store it. An ATV on the other hand is a much more affordable option. With the help of our hydraulic front end loader attachment, you will be able to maximize your productivity at a fraction of the price that a tractor would cost.
Take a load off of your back this season with the help of Wild Hare Manufacturing, Inc. Now is the time to invest in our ATV hydraulic front end loader attachment to help you maintain your deer and bear feed plots. Finally, you will have some down time to really enjoy hunting, thanks to this affordable attachment. Give us a call today at 1-218-483-1000 to learn more about our ATV attachments.